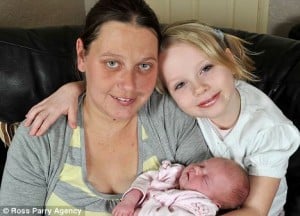 Lauren Burman, a seven-year-old from Rotherham, U. K., may have discovered her calling, after assisting with the delivery of her sister.
It all started when Lauren's mother Clair went into early labour at home. Clair began to panic and little Lauren helped her to bed and tried to calm her.
"At first it was a bit weird and disgusting," Lauren said. "But, then it got scary."
Lauren ran to the neighbour's house, across the road, to ask the help of Linda Platts. Linda remembers,
"Lauren came around and said, 'quick my mummy's having a baby.'"
"When I got to the back door," Linda continued, "I could hear Clair screaming upstairs. The baby's head was coming out as I came through the bedroom door."
Linda called for paramedics. Before they could arrive, however, baby Charley came into the world, weighing 5 lb 13 oz.
The excitement wasn't over yet, however, as the umbilical cord was wrapped around the baby's neck and she was not able to draw her first breath.
Linda and Lauren removed the obstruction and rubbed Charley's chest to encourage her tiny lungs. After a few moments, Charley took her first gasp of air and began to breathe on her own.
Lauren's first education in childbirth has her looking toward a career as a midwife. For now, she is a very proud big sister.
"When Charley's older I'll tell her how I was there when she was born and was the first person to see her," Lauren said. "I will remember that day for the rest of my life. She's the best sister I could have asked for."
Clair could not be more proud of the grace and quick thinking her young daughter was able to exhibit under such harrowing circumstances.
"Lauren was being more sensible than I was because I was panicking," Clair said. "She was fantastic and kept her head and thanks to Lauren everything turned out perfectly."
Clair spent the night at Rotherham General Hospital but is now home, happy and healthy, with her two little girls and boyfriend Dean Wilkinson. We wish them all the best and good luck to Lauren as she pursues her new found calling. – Jen R, Staff Writer
Related Articles: