Madeleine Johnson-Marsh is just your typical 7-year-old girl, but this blond-haired Oteha Valley School girl was one big hero earlier this week. She saved a toddler from drowning in the ocean when the tot's own mother was too afraid to enter the ocean.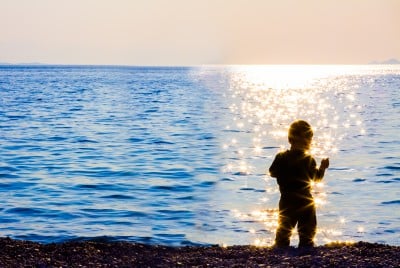 "At first I was really cross with the mother," Teresa Marsh, Madeleine's mother, told Auckland Now. "She went down to the water's edge but then retreated back and it looked like she didn't want to get her pants wet. I kept trying to fathom why she wouldn't have grabbed her [baby] but it was clear she had a real phobia, not a rational fear."
Madeleine happened to be playing nearby in the sand when the toddler wandered off into the ocean, a place that Teresa says the child clearly wasn't meant to go because no one in the baby's family was dressed for swimming.
"The baby toddled down to the water and we could see she was a bit doddery on her feet," Teresa said. "She was splashing about in two to three inches of water, but a small wave came in and was enough to knock her over. She was lying face down for about ten seconds."
No one but the baby's mother, Teresa, and Madeleine seemed to notice that the baby was drowning. That's when Madeleine raced into the water, without a second thought, rescued the little girl, and took her to her mother who was watching nearby in hysterics.
"She's been having swimming lessons and we often go out to Piha to boogie board so she's confident in the water," Teresa said. "We are very prowed she showed the initiative."
Teresa said the baby was non-responsive for a while but she soon coughed up some salty water and sand after being tapped on the back. While no update has been given, it's assumed that the baby girl is fine.
And Madeleine was apparently "pretty chuffed" that she was able to save the little girl but Teresa brushed away the comments about her daughter being a hero.
"Although it is nice for people to say things like 'you're a hero,' at the end of the day, the important thing is that she saved the baby's life. It's not about being a hero," Teresa said.
Related Articles: