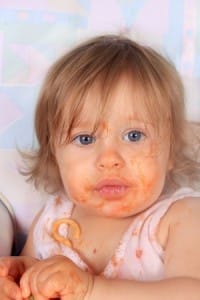 Regardless of where you go in life, you WILL stain your clothes. When you become a parent that probability is timed by 1000 – as is the severity of said stain.
I will fully admit that before I had my kids I was not a stain fighter. If I dropped something on a blouse or dress that I didn't think would come out, I immediately dropped it off at the dry cleaners. We were on a first name basis and I no longer needed my to bring my ticket to pick up my clothes because we were that tight.
Now, to stay on budget I am the washer, dryer, ironer and master of stains. It, I always say, is a lesson in chemistry. In fact, my laundry room cupboard has a bevy of kitchen items stocked to help me combat tough stains.
My first line of defense is pre-soaking. Most stains(grease excluded) can be stopped in their tracks by simply soaking the item in dish soap and cold water and scrubbing it with a brush.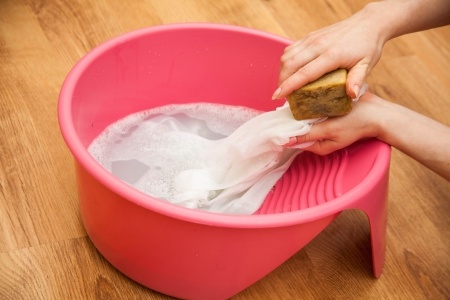 Secondly, I write which pieces need to be watched on the top of the washer(thank you Pinterest) with dry erase marker so that I don't forget to check to see if the stain came out before everything goes into the dryer.  If a stained piece of clothing goes into the dryer it is next to impossible to get it out.
If a tough stain(like chocolate or spaghetti sauce) is on a white shirt I have had good luck with a baking soda/peroxide paste applied directly to the stain.   To add some stain fighting strength I squirt fresh lemon over the paste after it has been applied to the garment. The paste will bubble and turn a yellowish tinge, but don't worry it comes out in the wash.  Let this sit for a couple hours and then place the item in the wash.
My crappy old washer sometimes leaves tiny little rust spots on shirts and pants if I leave them in the machine too long.  Salt sprinkled on the spot and fresh lemon juice squirted over top gets this out every time.
Because my husband works at a car dealership he is always getting grease and oil on his clothes.  The best thing I have found for this is applying a pre-treater, like Resolve's Stain Stick to the oil stain and letting it sit for a few hours before washing.  To make sure that the stain is out I let the clothes air dry.  Sometimes oil hard to see when a garment is wet.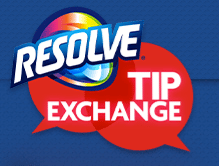 Are you a stain fighter?  Resolve has put together a tip exchange.  Do you have a special concoction you use to get spaghetti sauce out?  Are you a pro at grease stains?  Then share!  Please.
In doing so you'll be entered for a chance to win one of 12 weekly prizes of $250 and the grand prize of $5000!
---
Disclosure: I am part of the Resolve® Tip Exchange Blogger Campaign with Mom Central Canada and I receive special perks as part of my affiliation with this group. The opinions on this blog are my own."