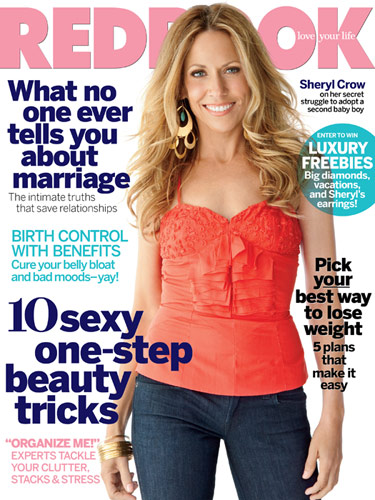 Sheryl Crow opens up to Redbook about adding to her family again through adoption, motherhood, and her battle with cancer for the August issue of the Magazine.
Here are some highlights:
On adopting her son, Levi James,
"It's been in the works for a while. I was hoping to adopt a child when Wyatt was 2; a lot of the adoptions fell through. But things always work out perfectly. They just do. Generally, when you let go of your vision of how something is supposed to be, the universe hands you exactly what you need."
On Motherhood,
"I always knew I wanted to be a mom; it was just a matter of when. I'd just been through a pretty painful breakup where there were kids involved, and I'd also been through breast cancer treatment. After that, I felt an acute sense of urgency about how I wanted my life to feel. Since I wasn't married, my idea of what the picture was supposed to look like no longer served any great purpose. So I started doing an adoption "home study," which means you fill out the paperwork, get certified in infant CPR. The idea was, if the opportunity came, I would be ready."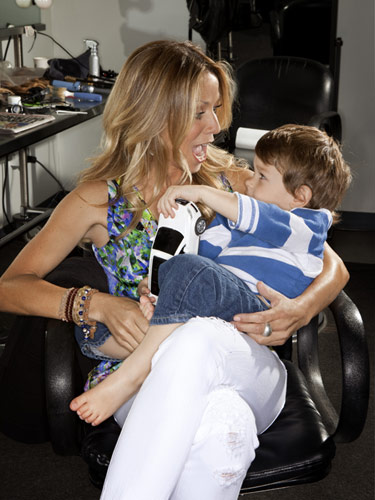 On her celebrity mom friends,
"I've got great mommy friends. Here in Nashville, it's Kim Williams-Paisley [the actress and wife of country singer Brad Paisley], Nicole Kidman, and another friend, Tracie Hamilton. They've been a wonderful resource for me. We get together at each other's homes, make dinner, and have girls' nights in. Or we'll go out for dinner and a drink–though we're mommies, so we don't let it all hang out. We've had good conversations about vaccinations, child-rearing, the "terrible twos"! Luckily, Wyatt's past the "terrible twos" now, which is great."
On her battle with cancer,
"It changed me in almost every way. It rebooted my sense of what was important. I learned to take care of myself emotionally, putting myself first and allowing other people to take care of me as well. It's great to be a strong woman, but when you're never allowing your needs to be met, or even heard, it catches up to you."
For the rest of the interview and more pictures pick up a copy of the Magazine, on newsstands July 20.
Related Articles:
---
[ad]