For families that choose circumcision, most will have the procedure done on their sons within the first week of life. But is it better to wait until they are older before performing the operation? One Canadian expert says so.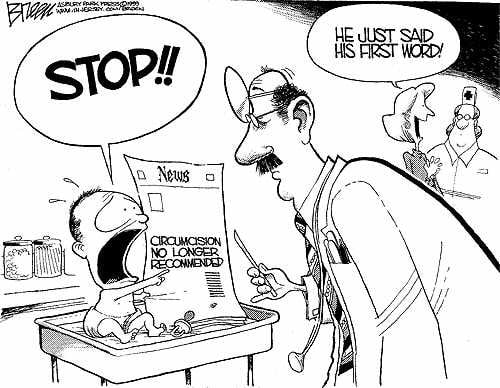 Dr. Noni MacDonald, professor of pediatrics at Halifax's Dalhousie University, is bucking the circumcision trend by suggesting that parents wait until their sons are older before performing the operation. According to MacDonald, the benefits of the circumcision only really begin once a person becomes sexually active. Waiting until that time, he says, is the better option for parents.
"The (infant) isn't at risk of HIV and sexually transmitted diseases, because they're not sexually active, so why are we rushing to do it at that time?" MacDonald said.

"If you're really going to do this, we need to think of the timing. Why aren't we offering it to prepubertal boys, when it's going to be relevant?"
MacDonald is basing his opinion on research into how circumcision can affect HIV rates in some African countries. According to the World Health Organization, there is compelling data on how the procedure may reduce the risk of HIV and AIDS in some men. Though many experts have said the same safety can come from using condoms and other safe sex practices, in many countries in Africa these things are routinely not used due to lack of education and cultural ideas.
Many parents may feel squeamish about doing the painful procedure on an older boy. However, MacDonald points out that a newborn can feel the same pain that an older boy can feel. A newborn is also less aware of what is happening, or why. Choosing to perform the procedure on older boys would mean the child is able to grasp what is happening to them and for what purpose. They may also get to have a say in the matter that newborns do not get.
"Why are we fine with doing it to a baby but not a young man?"

"It's curious that a painful elective procedure of no major benefit to the infant until years later would ever be deemed more acceptable than the same procedure for a prepubertal boy," MacDonald writes in the CMAJ.
MacDonald also says that despite the studies in Africa, there would not be a huge decrease in risk for countries such as the US and Canada where there are already lower HIV rates. He also says that the HPV vaccine is a better option than circumcision in reducing the risk of this virus among boys and men.
Currently, the Canadian Paediatric Society and the American Academy of Pediatrics are in the process of deciding what to say about the topic. Last year, the Royal Australasian College of Physicians concluded that the research was not enough to warrant routine infant circumcision in Australia and New Zealand. For now, the decision on whether or not to circumcise is still a personal decision that many parents have to make themselves. – Summer, staff writer
Related Articles:
---