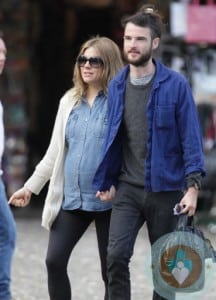 Actress Sienna Miller and her partner Tom Sturridge became proud parents to a baby girl over the weekend. The baby was born in London and according to news reports has been named Marlow.
The 30 year old actress has been very quiet about her pregnancy and it was only in January that the news that she was expecting was made public. The star was also found wearing an engagement ring one month later.
In a recent interview, Sienna had revealed to British Vogue,
'Even though I'm under strict instructions not to say anything… I'm feeling fine.It's all progressing nicely and it's very exciting. I feel very grounded, more than ever – it's a wonderful feeling. But all of a sudden, I've started to get cravings. I usually don't have a sweet tooth but these tarts I could eat all day long!'
Sienna and Tom, enjoyed a pre-baby holiday in Italy in May. The much pregnant Sienna was also seen last June chatting with Chris Hamsworth and Elsa Pataky on a London street when they had taken their baby girl India out for a stroll.
Our congratulations to the new parents! We look forward to meeting your new addition.
---
[ad]