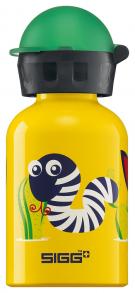 My boys are Sippy cup killers. They throw them, take them apart and chew the spouts. So when SIGG offered to send one of their Little Kids Bottles over to be tested I agreed, partly because I wanted to see if it could hold up and also because we needed a new one!
It has now been 5 weeks and I am surprised to say that the SIGG Little Kids Bottle looks pretty close to when it arrived. It has been in my diaper bag, the stroller, underneath the stroller, underneath the couch and pitched on many occasions and the paint hasn't rubbed off or scratched. – impressive! My oldest son is a chewer and I have, on many occasions, caught him chewing the spout and it is still in good condition. The cap, which protects the spout has popped off once, but for the most part has also done well holding up against the daily use (or abuse) it gets.
Plus SIGG uses a hard plastic lid that threads easily onto the canister to prevent leaking.  You do still, however, need to remember to close the drinking spout or it will leak just because it's open.  For this, SIGG uses a system that closes from the inside as opposed to a spout that pops up.  This is probably why my son has not been able to chew it off – it's one solid piece that rotates.
On top of being durable I also like that SIGG Little Kids Bottle is the perfect size for my son's hands and that they come in a variety of designs – from dinosaurs to dolphins, butterflies to mermaids, there is something for everyone.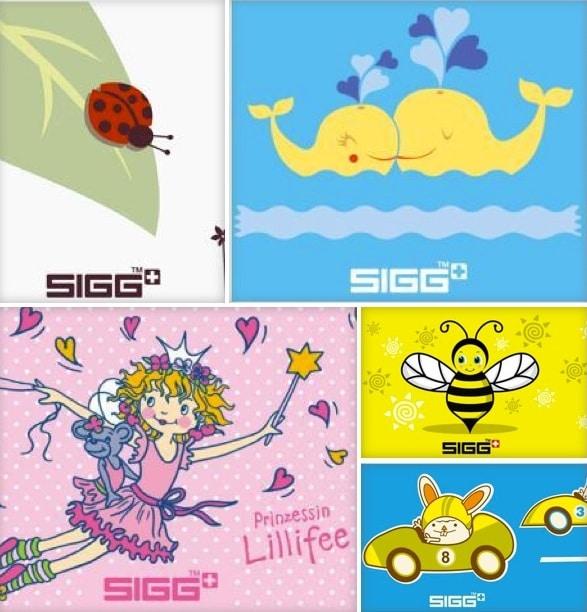 I like this container and so do my boys. In fact I see a second purchase in my future to prevent fights. They are $18 so they are a bit of an investment, but if they will last – it's worth it.
---