Consumer Product Safety Commission (CPSC) is announcing the recall of all Simplicity full-size cribs with tubular metal mattress-support frames. This recall includes fixed-side and drop-side cribs. These cribs pose a risk of serious injury or death due to entrapment, strangulation, suffocation and fall hazards to infants and toddlers.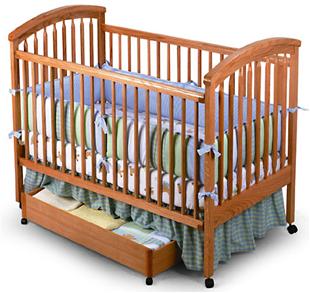 The crib's tubular metal mattress-support frame can bend or detach and cause part of the mattress to collapse, creating a space into which an infant or toddler can roll and become wedged, entrapped or fall out of the crib.
CPSC has received a report of a one-year-old child from North Attleboro, Mass. who suffocated when he became entrapped between the crib mattress and the crib frame in April 2008. CPSC is aware of 13 additional incidents involving the recalled cribs collapsing due to the metal mattress- support frame bending or detaching, including one child entrapment that did not result in injury, and one child who suffered minor cuts to his head when his mattress collapsed and he fell out of the crib.
Parents and caregivers are urged to stop using these cribs immediately and find an alternative, safe sleeping environment for their baby. Do not attempt to fix these cribs.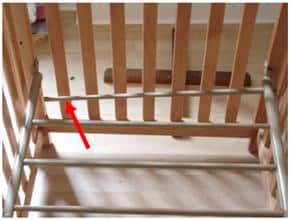 Due to the fact that Simplicity and its successor, SFCA Inc., are no longer in business, CPSC has limited information about the number of cribs sold. All Simplicity drop-side cribs have previously been recalled for a hazard involving the drop side. Simplicity drop-side cribs could still be in use by parents or caregivers who are unaware of the recalls or by those who received a repair kit to immobilize the drop side from Simplicity when the firm was still in business. This recall involves all Simplicity cribs with tubular metal mattress-support frames, which include but are not limited to the following models:
| Crib Name | Model Number |
| --- | --- |
| Aspen 4-in-1 | 8755 |
| Chelsea Deluxe 4-in-1 Convertible Sleep System | 8324 |
| Graco 4-in-1 Ultra Sleep System | 4600 |
| Graco Aspen 3-in-1 | 8740 |
| Simplicity Crib and Changer Combo | 8994 |
| Simplicity Ellis Deluxe 4-in-1 Convertible Sleep System | 8676 |
| Simplicity Nursery-in-a-Box Convertible Crib | 8910 |
Other Recent Recalls: