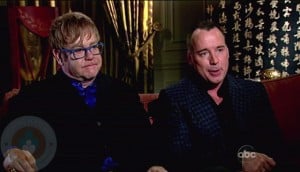 On January 18th, Elton John and David Furnish surprised the world by announcing they had become parents to a beautiful little boy on Christmas Day. Apart from the original photoshoot David and Elton did after his arrival, Zachary has been kept fairly sheltered until last night when the couple showed him off during an interview with Barbara Walters.
The new dads opened up to Barbara about choosing Lady Gaga to be Zachary's Godmother, parenting and their hopes for the future.
Here are some highlights: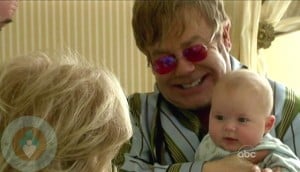 When asked if he and his partner have chosen pop diva Lady Gaga to be their baby boy's godmother, Elton responded, "Yes, yes she is. When you get to the real person underneath, there's a very simple New York girl who loves her parents. I love her to death and a lot of people said, 'oh, you know, that's crazy,' but they don't know her and we do."
The pair famously teamed up to perform at the Grammys last year and then again for the animated movie, Gnomeo & Juliet.
Elton calls parenthood 'the most relaxing thing that's ever happened to me.'
"We change him, we bath him, we feed him and we read him a story every night," said John of the couple's routine. "And we take him to lunch."
They also have breast milk couriered to LA every day from the baby's surrogate mother.
"The baby's been brought up in Los Angeles for the first four months so we've had the breast milk Fedexed from where she [the surrogate mother] is to Los Angeles every day. She and her family will still be part of our lives when he's growing up."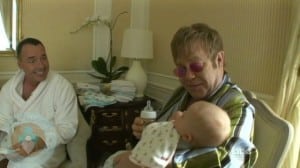 Despite the fact that Elton is well known for his lavish lifestyle, the pair revealed that they are determined to not spoil their little guy.
"The worst thing you can do to a child, and I've seen it happen so many times, is the silver spoon," Elton said. "Being the child of a famous person is very difficult and we're very well aware of the pitfalls of that."
David agreed.
"Our life might be very luxurious, but it's all come from hard work," he said.
"Both Elton and I have sort of earned everything we've done in our careers and furthered our educations through our own drive and our own ambitions and we want Zachary to be exactly the same sort of way."
The pair, who mixed their sperm to father the tot, have not ruled out the possibility of another child.  They are not sure which one of them is the biological father but plan to take a DNA test so that Zachary will know the truth about his conception.
Regardless, this looks like one happy family.  Congratulations to them!
Related Articles:
---
[ad]