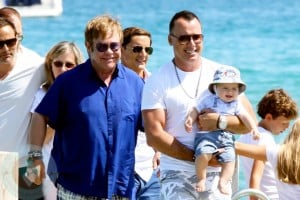 A new rock star is born. Sir Elton John and his partner David Furnish revealed last night that the new addition to their family is a baby boy.
Elijah Joseph Daniel Furnish-John was born last Friday evening in Las Vegas to a surrogate mother, weighing 8lb 4oz.
Elton and David say that the arrival of their second son "completes our family in a most precious and perfect way".
In November that pair revealed they were expecting their second child and had decided not to reveal the identity of the surrogate mother.
A source said, 'Elton and David love this lady like a sister and they feel indebted to her for life.Naturally she has been well rewarded. But her identity will never be revealed. They are over the moon.'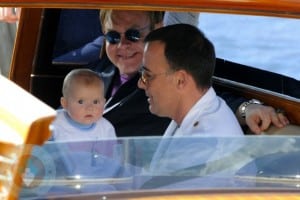 For Elton, the birth of their children is an exceptional experience and he says he regrets waiting for so long for a child.
'I think it changes everybody. It's the most wonderful thing that you could possibly go through.

'I regret a little bit that I didn't do it sooner, but he [Zachary] has changed our lives. Everything is about him now. He's gorgeous, he travels brilliantly, he so loves people, and it makes our lives – he's the icing on the cake. It's the most wonderful thing that you could possibly go through. The first thing I do every morning is have breakfast with him. He shares my breakfast. Whatever I have, he wants.'
He introduced Zachary to Mozart, but the budding star prefers soccer and cooking right now, he says.
After Zachary's arrival, Elton worried about challenges he might have to face growing up without a mother.
The singer fears his child will struggle with bullies.
'At school other children will say, "You don't have a mummy",' Elton said. "We've come a long way, but there's still homophobia and will be until a new generation of parents don't instil it in their children.'
He also feels that being the son of a celebrity has its own set of challenges.
He says, 'Being the child of someone famous is a huge ball and chain around your ankles. It's going to be very difficult.'
But the two are over the moon, being parents to two precious sons. Zachary calls Elton 'daddy' and his partner 'papa', the singer revealed.
California is one of the most accommodating places in the world for gay surrogacy. It is permitted to use a mix of sperm to fertilise the egg and the names of both partners can go on the birth certificate. In the case of Zachary, a mix of both men's sperm was used in fertilization.
Congratulations to the new dads! Here's wishing the newborn and his parents lots of songs, dance and joy in the coming years.
---
[ad]