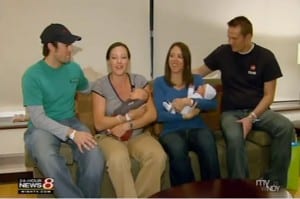 It seems you don't need to be twins to have an extraordinary bond with your sister.  Two Indianapolis sisters proved this on Thursday when they went into labour on the same day and delivered their babies just an hour apart.
When Rosie Wittleder's husband Mark passed out while she was being prepped to deliver their first child, the mom-to-be sent out a text message to alert her family, including her pregnant sister, Emily Allen.
Emily, who wasn't due for a week recalled her famous last words saying,
"I had asked my husband do you care if I go into the hospital and he was like that's fine, just don't go into labor. And I was like oh, I won't."
But as Rosie was receiving her epidural, she noticed something wasn't right with her sister.
"Rose could tell I was having some contractions so she called me out on it," says Allen.
Just to be safe the doctor checked her over and admitted her after they realized she was 5 centimeters dilated.
"You see somebody experiencing one thing you tend to do the same thing, I think seeing her sister go into labor might have kicked things into gear for her as well," nurse, Caitlin Pribble said.
And that is exactly what happened.
Rosie gave birth to Drew (7 lbs, 9 oz) at 3:16 Thursday morning and just one hour and eight minutes later, Emily welcomed Jacob (7 lbs, 2 oz).
Congratulations to both families.  This is a story they will be able to tell for years to come.
Related Articles:
---
[ad}