New parents Caylyn Otto and Chris Crawford are, in many ways, like most parents – they see their son, Oliver, as a gift, a blessing, a miracle. But there are also a lot of ways in which they're not quite like other parents, namely because they were told, time and again, that their son might not even make it through birth. And so, even though most parents look at their children as little miracles, in Oliver's case, it couldn't be truer.
It was during Caylyn's 20th week of pregnancy when doctors first noticed that there was something wrong with Oliver's heart. Referred to Phoenix Children's Hospital, the couple had originally been told their child would be okay, that he could be saved. But then came the specialists, delivering the kind of news that no parent should ever have to receive.
Oliver wasn't okay.
He had cardiomyopathy, a condition that weakens and enlarges the heart, making it impossible for it to pump blood efficiently. It was very likely that he would be stillborn. But, if he did make it, he would need a heart transplant. In order to get a transplant, he would need to be able to survive until a donor heart was found. He'd have to be strong enough to make it through surgery and, even if he made it through surgery, there would be a critical waiting period to make sure he didn't reject his donated heart. He basically had about a 58% chance of survival.
And this was all when Dr. Christopher Lindblade, a Phoenix Children's Hospital pediatric cardiologist and director of the Fetal Heart Program, had started treating Caylyn, back when she was 24 weeks pregnant, when Oliver's left ventricle was "huge for a 24-week-old."
The prognosis would get worse when, by 28-weeks gestation, Oliver's left ventricle enlarged dramatically, putting it at seven times the size of a healthy 28-week-old baby. That was about the time that Caylyn and Chris started preparing for the worst.
The couple cleared their home of everything that might remind them that they'd been expecting a child—diapers, toys, furniture, clothing. Caylyn shopped for a baptismal gown and a tiny gold bracelet to bury him in. And they made the decision as to whether or not they would hold him if he was, in fact, stillborn.
"It was too hard for me to look at all that stuff," Caylyn said about removing everything. And, as far as whether or not to hold their son, they'd decided that they just couldn't.
About the time that the preparations were near finished, Caylyn's water broke in the middle of the night. She was only 33 weeks pregnant. She'd been told, in order to give Oliver the best chance at being considered for a heart transplant, she would have to make it to 36 weeks.
She panicked and called Dr. Lindblade.
"When her water broke, she woke up screaming," Lindblade said. "So what's crazy is I happened to be on call that night she got admitted to the hospital."
She begged the doctors at Banner Good Samaritan Medical Center in Phoenix to postpone her delivery. She managed to get them to do it for a few days, but then Oliver just wouldn't wait any longer. Then, when he was born, she waited what felt like a lifetime for even the tiniest sound from her son.
He gave a tiny peep.
And then she held her son. She knew it might only last a moment, but in that moment, he was alive and she wanted to treasure whatever time she might have. That's ended up being much more than they ever could have imagined.
Oliver didn't just hold out and make it through the transfer to Phoenix Children's, and the screening process, he made it until a donor heart could be found, just six days after he was born.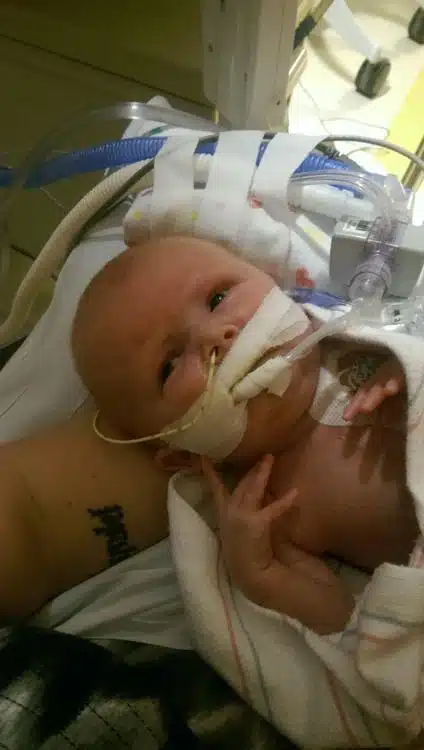 On the day that Oliver's heart came, Chris and Caylyn kissed their son goodbye, just in case, and then they watched doctors take him off to surgery. Ten long hours later, doctors brought Oliver back to his room, an incision made all the way from his chest to his belly, but still very much alive.
It's now been a month since Oliver's transplant, and he hasn't rejected his heart. His lungs are still weak, and he needs to grow, so he stays at the hospital, but Caylyn and Chris are hopeful again.
They've attached his bracelet to his bed. They went to Build-a-Bear and had a blue and read Superman bear for him. They've brought his car seat to the hospital, and they've finally had a baby shower for their son.
"He's coming home," Caylyn said.
And for that, she and Chris thank the doctors that worked so hard to save his life.
"They never gave up hope, and we're so grateful for that," she said.
But Dr. Lindblade says he can't take all the credit. He says he's seen hundreds of patients, but for some reason, Oliver sticks with him. Maybe it was because he'd been told by doctors at Boston and San Francisco pediatric heart centers. Or maybe it was how, as he placed that tiny heart in Oliver's body, he couldn't help but think of how his parents had asked if they could donate their son's organs if he didn't make it.
Either way, even he recognizes that Oliver is nothing short of a miracle.
"It still kind of gives me chills," he said. "I do feel there was something miraculous that happened with this child."
Recent Articles:
---