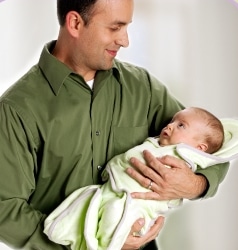 Swaddling a baby has never before been this easy. The Snooze Wrap™ Plus($25) by sootheTIME takes the guesswork out of the art of swaddling a baby. Swaddling can be tricky to do with a wriggling baby, especially in the middle of a sleepless night. Even though I was a master at swaddling my baby dolls growing up and was taught at prenatal class with my first pregnancy how to do it using a simple receiving blanket, it was nice to have something to make it easier.
The first thing I loved about the Snooze Wrap™ Plus was how soft and luxurious the 100% cotton knit wrap felt. The blue pattern with the company's baby face logo is super cute as well. Although there are instructions you really don't need them. Once the wrap is open you lay the baby with his/her head in the centre of the head support and start folding up and securing the Velcro fasteners. My son was cozy and secure in no time at all and had some very restful sleeps all bundled up in the wrap.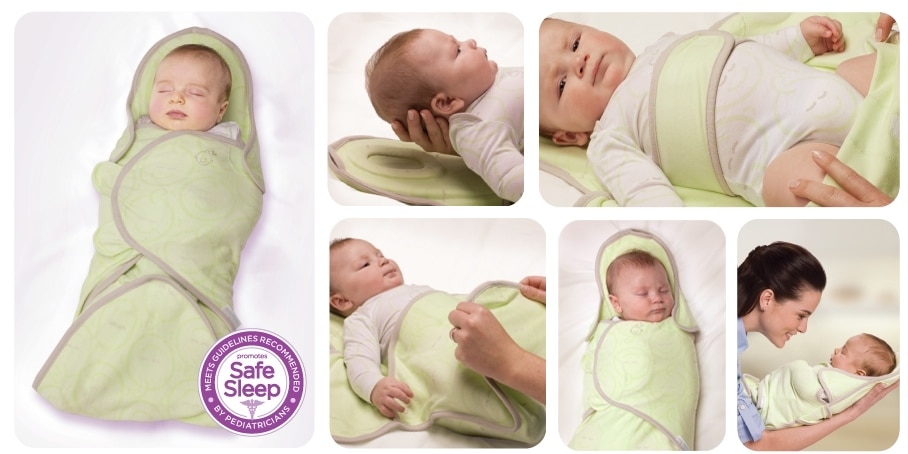 Some of the features that make this swaddling wrap stand out from the other ones on the market are:

Gentle Head Support: it's a soft, circular cushiony support that helps keep babies head in position and may possibly reduce flat head syndrome. My son was quite a squirmy baby from the moment he was born, so although the head support is a good idea he managed to get his off the centre of it each time we used it (but he did stay asleep anyway).
Comfort Tabs – to help with colic and tummy upset.
Arms free option.
The Cradle Support Pad – a sturdy foam pad that is inserted in the blanket helps support babies neck/head when lifting or holding them.
Optional Snooze Sheet™ with Innovative Sleep Stabilizer Tabs (sold separately) For added reassurance that your baby stays in the pediatrician recommended back to sleep position the wrap can be used with these crib or playard sheets. This is a safer alternative than using rolled up blankets or wedges.
The Snooze Wrap™ Plus is a must have for any parent wishing to swaddle their newborn. It is an innovative product with many benefits to help babies have a good night's sleep. Happy Swaddling! – Lisa F, Staff Writer
---
[ad]