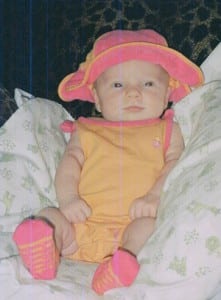 There is no doubt that social media is helping connect people around the world who would never have been affiliated. But this week the range of social media was demonstrated when a mom was reunited with decade old pictures of her then-newborn daughter.
When Ann Perry-Smith's film was stolen nine years ago during a vehicle break-in she probably never thought she would ever see them again.
Over the weekend she said she was "gobsmacked" when they appeared online.
"My jaw just dropped. There's a picture of my husband, my baby — who's only just weeks old at the time — and my dog, laying on the bed together. And it immediately brought back all those memories and I couldn't believe that somebody had found it after all these years," she said.
Vacationer Helen Maslyk said she spotted the roll of undeveloped film in the ditch after pulling over to the side of the road for tire problems. She had the film developed, then posted the baby pictures on Facebook in an effort to find the owner.
"I'm one of those people who it's meant for a reason that I was there, and I found it and so I knew that's what I had to do," Maslyk said.
This was very sweet for Helen to do. You can only make those memories once. Now Ann and her family will have them to cherish and also be able to tell a good story to go along with them!
---