Sudden Infant Death Syndrome (SIDS) – the sudden death of an infant under one year of age that cannot be explained after a thorough investigation – is the leading cause of death among infants 12 months old and younger. A high percentage of those cases have been tied to problems with the sleeping environment. This is why the American Academy of Pediatrics (AAP) says that the safest place for babies is in the same room as their caregivers in a separate bed – one that is free of comforters, bumpers, pillows, and toys.
Unfortunately, when paired with parental preferences and concerns with bonding, conversations surrounding safe infant sleeping practices extremely controversial. Parents that choose to bed-share (and even some experts) claim benefits, such as babies that sleep more soundly, better bonding, and some studies suggest that bed-sharing promotes longer breastfeeding.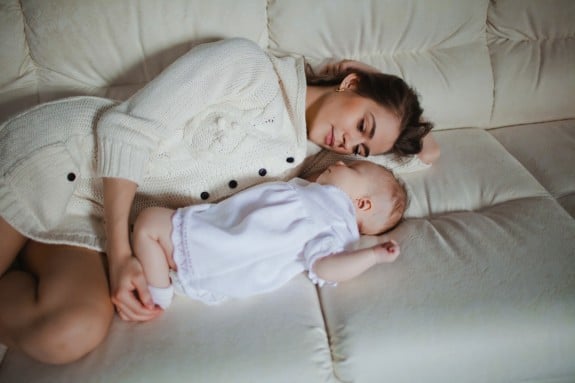 But the evidence against sharing a bed with an infant continues to roll in, and now, a new study suggests that having an infant sleep on a sofa – even for nap time – can be extremely dangerous. In fact, after studying data for infant deaths from 24 states between 2004 and 2012 from the National Center for the Review and Prevention of Child Deaths Case Reporting Database, researchers found that, out of 9,073 sleep-related deaths, 12.9% of all occurred while the infant was sleeping on the sofa. Of those deaths 72% occurred in children between 0 and 3 months of age, and 44.8% were white, non-Hispanic children.
In addition to these alarming percentages, researchers found that infants who died on sofas were much more likely to be sharing the sleeping surface with another person, and they were more likely to have been placed either face-down or on their sides to sleep, despite recommendations to place babies on their backs to sleep. Mothers of infants who died while sleeping on a sofa were also more likely to have used tobacco during pregnancy – yet another known risk factor for SIDS.
While there are definitely other factors at play here – any number of which could have contributed to the infant deaths in the study – researchers say that the results suggest that sleeping on a couch, even for a short nap, is extremely risky for infants. As such, they say that it is extremely important for parents and caregivers to be aware of the dangers, as well as how they can avoid them with safe sleeping tips and practices.
Related Articles:
---
[ad]