Holiday travelers were treated to a bit of a Christmas miracle in Pennsylvania on Thursday when a baby decided to make his entrance on the subway!
CBS News reports that two transit officers at the Southeastern Pennsylvania Transportation Authority jumped into action to help a mother who was about to deliver her baby on the Market Frankford line El train.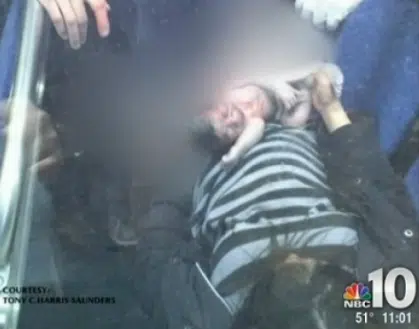 After a passerby tipped them off that a woman was in labour, Sgt. Daniel Caban and Officer Dorrell James met the train just before 6 o'clock on Thursday night just as the baby was being born.
"As soon as we got there, I could see the baby's head coming through her sweatpants, and we just went right to work," Sgt. Caban told KYW Newsradio.
The impatient little guy didn't wait long to arrive, and the pair acted quickly when it was discovered that the cord was wrapped around the baby's neck.
"The baby had the umbilical cord a little bit wrapped around its neck. So to help with the baby's breathing we got the cord away from the neck. We did that and then the mother wanted to hold the baby.   The father offered the shirt to warm the baby up," Officer James told NBC News.
Shortly after the delivery the new mom and baby were transferred to a local hospital for observation.
Both fathers and the officers were grateful the delivery went well.
"We delivered a baby for her so it's like her Christmas present, but is also a blessing and a present for myself,"  Sgt. Caban told CBS News.  "This is the first time I've experienced something like this."
"I had already opened all my presents I didn't know I had another one waiting for me around 5:53 this afternoon," he added.
SEPTA Police Chief Thomas Nestel III later tweeted his congratulations.
Transit Police SGT and PO deliver baby on Market Frankford El train!!!! WOOHOO!!! Now that's a Christmas gift!!!

— Thomas J. Nestel III (@TNestel3) December 25, 2014
---