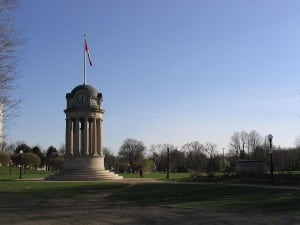 A teacher in Kitchener, Ontario has come under fire after it was revealed this week that she left a nine-year-old special needs student behind in a park, during a fieldtrip last month.
The trip involved the boy, Ryan Mullins, and five other special needs students, traveling by foot to and from a skating rink in a local park.  At the end of the outing, Ryan, who functions at a kindergarten level, refused to return to school with the rest of his class.  His teacher made the decision to leave him behind, in the care of an elderly couple who were also using the park that day, while she returned to school with the other students.
Her intention was, apparently, to return for the boy but, in the end, he walked back to school by himself.
The boy's father, Kevin Mullins, is understandably distraught over the episode, especially in light of his accusation that the school did not inform him of the situation – he eventually learned about it when his son divulged the details, three weeks after the fact.
"Ryan has never crossed the street without his father's hand," Mullins explained.  "…he has a problem retaining memory, especially with words and numbers."
Mr. Mullins has pulled his son and daughter out of the school and is demanding that both the teacher and principal are removed from their positions.
The school board has offered to transfer the Mullins children to an alternate school, but it appears that everyone is going to keep their jobs.
Details of the teachers discipline are being kept under wraps.
School board chairperson, Kathleen Woodcock said,
"Disciplinary measures have been taken.  We're very, very sorry this happened and we have conducted a thorough investigation." adding that, "Staff have been working with the father and are taking it very, very seriously."
In accordance with policy, the Waterloo Region District School Board has informed Family and Children's Services of Waterloo Region.  The organisation is conducting their own investigation, the details of which will be kept confidential due to privacy laws.
It comes as no surprise, that this entire situation was a violation of school policy.  Given that the class is designated 'special needs,' the teacher should have had the added support of an educational assistant and should not have attempted the excursion single-handedly.  Not to mention that no student, special needs or otherwise, should ever have been left without supervision during school hours.  Everyone can count themselves very lucky the incident did not end much worse. – Jen R, Staff Writer
---