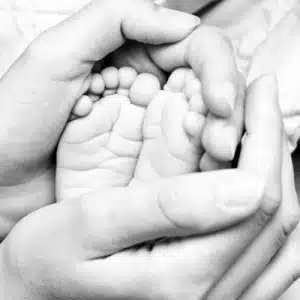 Melissa Dicus was already panicking when she gave birth on the side of the highway just two exits away from the nearest hospital. But when her newborn turned blue and started struggling to breath she became even more upset. That's when a state trooper came in the help get the baby breathing again.
Dicus was on the way to the hospital when her husband had to pull over in to the emergency lane. Her baby was coming quickly and there was no time to make it the rest of the way to the hospital. Within moments the new baby had arrived, but with problems. The baby was struggling to breath and turning blue as mucus blocked her airway.
Thankfully, a local state trooper was making rounds in the area and was flagged down by the father. Sgt. Daniel McLain, a father of four, knew that he had to act quickly as soon as he saw the baby. He immediately grabbed the baby and began massaging her back and feet to help get her crying and clear away the mucus. After clearing the mucus from the baby's mouth and nose, McLain saw the baby begin to turn pink.
"I just did the best I could. I did it the way we are trained, and things turned out good. It's good to be there when people want you to be there."
At that time the ambulance and medical team arrived on scene to help with the newborn. Mother and child were taken to the Baltimore Washington Medical Center where they were reported to be in good health.
Sgt. McLain went to the hospital a few hours afterward and was greeted by a group of happy family members who thanked the officer for his quick action in helping to save the tiny girl. – Summer, staff writer
Related Articles:
---