In a scene right out of a movie, a mother got the fright of her life when her car got stuck on the railroad tracks with her son still inside. What saved the baby boy from the oncoming train was surely a lot of good luck.
Anja Bochenski from Big Lake was on her way to the day care centre in Elk River Monday morning at around 7.00 am with her 15-month-old son Henry. On their way the mom stopped at an icy railroad crossing for a passing train.
Once the train passed the crossing arms went up Anja began to go forward. But almost immediately, the arms began closing for another train to pass.
Anja knew that she could not go across in time so pulled the brakes. But because of the ice, the car began to skid on the slippery surface. She thought if she could turn, she would avoid the tracks, but a car on the next lane hit hers, pushing her instead in direct path of the oncoming Northstar train.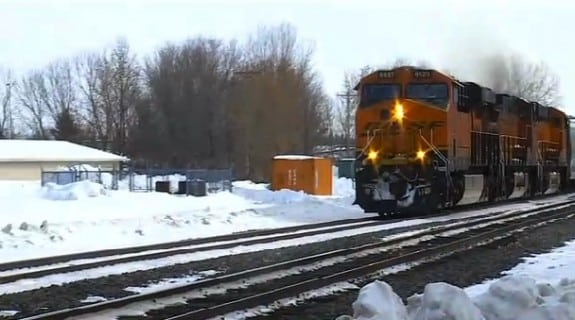 "It wouldn't go," she said. "I put it into park, I put it into reverse, I put it into drive, and nothing would happen. So I thought, 'OK, I gotta get out of the car.' "
But the doors were locked and she could not get out.
"I just started frantically pushing every button on the door to see if something would work, and the windows went down," Bochenksi said. "So I was able to unbuckle and crawl out of my window."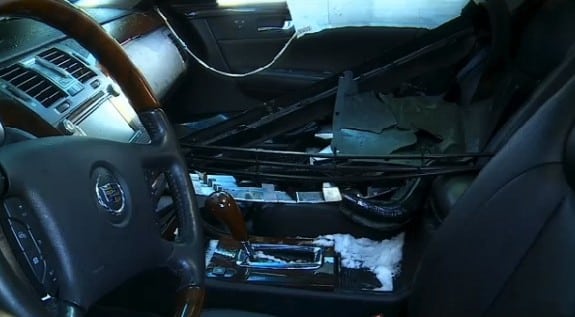 She rushed to get Henry out too who was in the car seat in the back. The train was coming closer and closer and there was no way Anja was able to reach for her son.
To get the engine driver's attention, the mother began frantically waving her arms. The train slowed down and began to brake but it was still moving with quite some speed.
Anja had to get out of the way. She watched horrifyingly as the train hit the car and made it spin multiple times.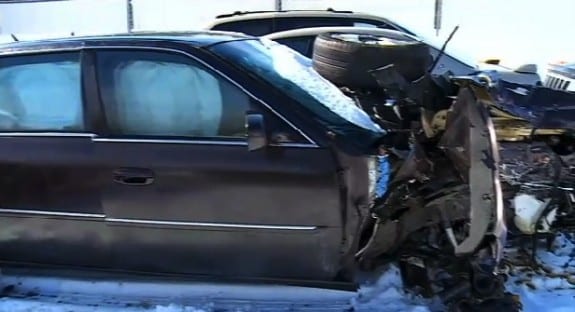 When she finally could reach her son, Henry was luckily alright except some bruises. They waited at the nearby building for the paramedics and the police to arrive.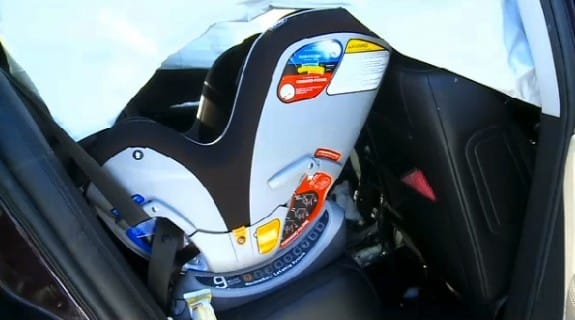 At the hospital ambulance paramedics ensured the shaken mother that Henry was not seriously injured. The boy was in shock and had a bruise on his collarbone from the seat belt but was miraculously safe from any other worse injury that such an accident could have caused.
Bochenski stayed at home Tuesday and says she still keeps thinking of what happened.
"It's like your mind wants you to think that it didn't happen, or that it was a bad dream," she said. "You just don't want to believe that it was real."
She says guardian angels were surely watching over her and her son.
On Wednesday, finally able to go for work she said,
"I just feel like going forward, we're going to look at things so differently," she said. "We're just happy for the little things, and just happy we can move on with our life, and feel very blessed."
Henry on the other hand seems to have recovered well after the shock.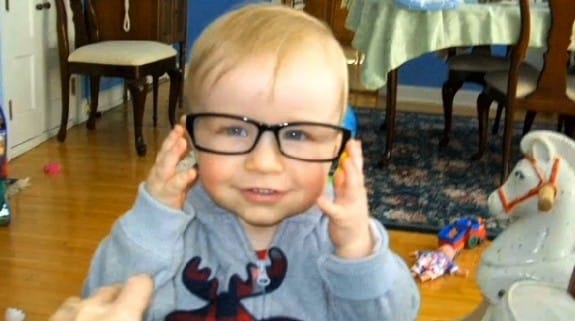 "Even this morning, he was watching Thomas the Train, and he was happy," Anja said.

"I'm just happy that I can move on, and the worst that we have to worry about is getting a new car," she added.
The baby was riding in a Chicco Nextfit Car Seat.
---
[ad]