College life can be incredibly fun. It's also full of surprises. One English student got the surprise of her life when she delivered a baby girl on her parent's bathroom floor after she thought she had to use the bathroom.
Jessica Elikowski, 18, from Blurton, Britain says that she had absolutely no idea that she was pregnant. She thought that the pains that she was experiencing in her back and knees was related to something different. She had even went for keyhole surgery on her knee when she was six months along, but the doctors had no idea she was pregnant and did not test her because she believed she was menstruating.
Recently, Jessica had to take some time off from college, where she is studying to become a kindergarten nurse, due to severe back pain. It was the same type of back pain that woke her up in the middle of the night. She had felt the urge to use the bathroom, and when she felt the urge to push, she gave birth to a 7lb 6oz baby girl, named Lexi.
Jessica recalled,
"I had no idea I was pregnant – which is amazing considering I'm actually studying child care and pregnancy at college. I had really bad knee and back pain which I thought was a result of an injury I suffered in 2012. The doctors said I needed key-hole surgery to realign my kneecap." The surgery that she received had not repaired her knee pain, for obvious reasons. Elikowski says that "the pain didn't go away until I suddenly gave birth three months later. Everything happened really quickly. I had a couple of days off college because I was having really bad pains in my back. I went to the toilet a few times and I had a bit of pain but I thought it was period pain. My mum came in to check if I was okay and realised something was wrong."
Adding,
"I was pushing for about 15 minutes and my daughter was born. My mum caught her and unwrapped the umbilical cord from around her neck. We were all in shock. I had absolutely no idea I was pregnant. I had gone to a couple of weddings in fitted dresses and there was no sign of a bump."
Jessica's mother, Barbara has also weighed in on the surprise arrival of her newest granddaughter,
"It was such a surprise. I didn't really understand what was happening until she was born. I caught her and she was crying but she had the cord wrapped around her neck. I was very gentle and I removed it and the paramedics arrived very quickly and they took over from there."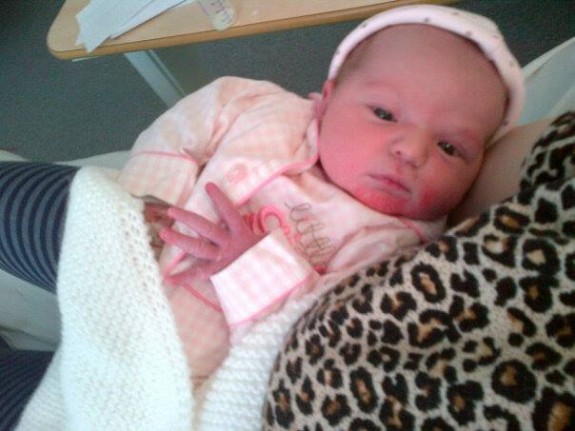 Both mom and grandma are incredibly happy with their newest little addition. Grandma Barbara gushes,
"I just couldn't believe it. But now I rush home to see Lexi after work and I love helping out with her. She's quite a quiet and happy baby, a miracle really. I'm very proud of Jess for everything she's been through." Mom Jessica is elated to be a new mom and is very happy that her back and knee pain has subsided, saying "I'm relieved the pain has gone now and even happier that I've got little Lexi to show for it."
---
[ad]