There's no real formula for fetal alcohol syndrome (FAS) – no one knows how many drinks it takes, or why it is that some women who drink more end up having perfectly healthy babies and those that drink less sometimes end up having babies with FAS. There is one sure-fire way to prevent FAS: don't drink during pregnancy. Unfortunately, there are still many women that fail to heed this warning. A new study finds this to be especially true in the UK, Ireland, New Zealand, and Australia.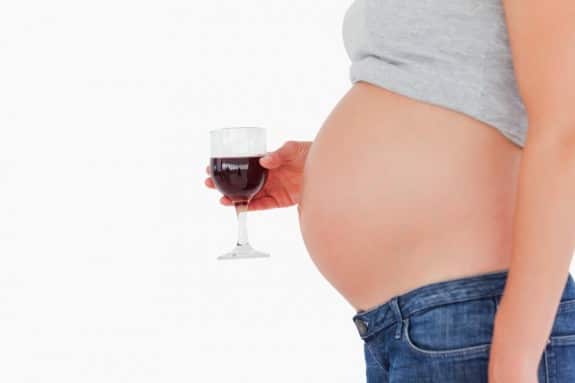 Published in the online journal BMJ Open, the study analyzed data from three different studies: The Growing up in Ireland (GUI) study, the Screening for Pregnancy Endpoints (SCOPE) study, and the Pregnancy Risk Assessment Monitoring System (PRAMS). In total, there were 17,244 women included in the study. Overall, researchers determined that 20% to 80% drank during their pregnancies.
"Alcohol use during pregnancy is highly prevalent, and evidence from this cross-cohort and cross-country comparison shows that gestational alcohol exposure may occur in over 75% of pregnancies in the UK and Ireland," the researchers told Science Daily.
Between 15% and 70% said they drank 1-2 units per week during the first trimester, but the number of reported drinks did drop substantially between the first and third trimester, as did binge drinking. These rates spanned across all social classes, but the study did find there were several factors that either lowered or increased the risk of alcohol consumption.
When compared to white women, other ethnicities were found to be more likely to drink during pregnancy, as were women who lived in Ireland (90% reported drinking prior to pregnancy and 82% reported drinking during pregnancy). Younger women were less likely to drink than younger ones, as were women with a higher level of education. Women who had other children or were overweight or obese were also associated with a lower risk of drinking during pregnancy. But the most prevalent factor appeared to be smoking, increasing their risk by 17-50%.
Researchers say that, while most of the women did not drink in excess, there is still a very big concern over what impacts the low consumption may have on the infants to be born. This is due, in part, to a lack of information on low level alcohol consumption during pregnancy.
"Since most women who consume alcohol do so at lower levels where the offspring growth and development effects are less well understood [than at higher levels], the widespread consumption of even low levels of alcohol during pregnancy is a significant public concern," the authors said.
Related Articles:
---
[ad]