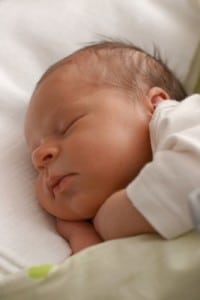 Researchers studying the brain activity of sleeping found infants found that even when they are sleeping, they are busy processing and learning new information. For growing brains, there does not seem to be an "off" time.
The researchers, lead by William Fifer, a developmental neuroscientist at Columbia University in New York, used electrodes to study the brain activity of newborn infants as they slept. A tone of music followed by a puff of air was repeated as the infants slept. What the researchers found was even though they were sleeping, the infants quickly learned to expect the puff of air after hearing the music note.
"It's surprising how quickly they learned — the study took 30 minutes, but I think they actually learned this in half that time," said researcher William Fifer.
Using the electrodes, the researchers were able to see that certain frontal nodes in the infants' brains were more active than others. This shows how infants store memories during their early years. The cerebellum was especially important in the infants learning to anticipate the puff of air. This area of the brain is commonly affected by autism and dyslexia, giving scientists a new way to potentially test infants for these conditions at a much earlier age.
Being able to rapidly adjust to their environment is vitally important for infants to do.
"We knew that a baby's job is to be an information gatherer , a data sponge, but I don't think we realized this also happens when they're sound asleep," said Fifer.
Because infants spend much of their early lives sleeping, studying how the brain works during this state is an important way to see just how infant brains are developing and gain new insights into the abilities of children. – Summer, staff writer
Related Articles:
---
[ad]