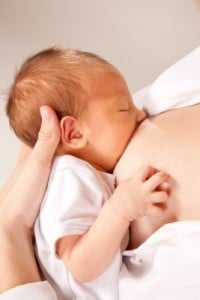 There's more than one way to feed a baby, and researchers have been studying those different techniques to determine how each one affects the overall amount of time a mother spends with their child. Interestingly enough, breastfeeding moms spend the most bonding time with their children – about 6.6 hours more per week than moms who feed their babies through other methods.
The World Health Organization recommends that moms breastfeed exclusively during the first six months. Reasons behind this are vast, including the better immunity against infections, autoimmune disorders (asthma, allergies, eczema, etc.) and obesity. Unfortunately not all mothers are able to meet those guidelines.
To determine how the different feeding methods affected bonding time spent with baby, Julie Smith and co-author Robert Forrester examined the feeding methods of 139 Australian moms. Researchers gathered the amount of time these mothers spent feeding their children, whether it included breastfeeding, bottle feeding or feeding of solid foods. To help ensure time was accurate, mothers received electronic time tracking devices.
In total, mothers who breastfed exclusively spent about 18 hours per week feeding their children. This ended up being about 6.6 hours of extra time when compared with the feeding times of mothers who bottle fed or fed solid foods. On one hand, the extra time is a good thing because bonding time is important. However, there can be some issues when it comes to spending more time with baby if you are mom in the United States or Australia.
The United States has a very short maternity leave (six weeks), while Australia gives their new moms a little more – 18 weeks. This doesn't give adequate time for mothers and babies to get acclimated to the process of breastfeeding. Additionally, breastfeeding can become more difficult once mothers return to work, especially if the employer is not supportive of pumping times during work.
"It is rarely acknowledged that exclusive breastfeeding is very time intensive. Time is a big factor in how new mothers choose to feed their babies. Exclusive breastfeeding may add the time spent feeding because you need to feed more often and it's harder to share the feeding with someone else," Smith, from the Australian Center for Economic Research on Health at Australian National University told Medical Xpress. "We need to help mothers to meet the health recommendations of breastfeeding by promoting time saving strategies for new mothers, such as additional help with housework and other childcare, lactation breaks in the workplace and on-site childcare."
And if those adjustments are made, mothers who breastfeed may be able to better enjoy that extra time rather than it becoming a burden once she returns to work.  It is also worth noting that the maternity leave policy in the U.S. is also in desperate need of updating.  New moms deserve the chance to spend at least six months at home with their babies.
Related Articles:
---