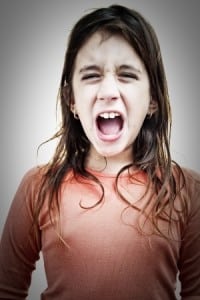 Parents who have children with behavioral problems may have yet another thing to worry about, and unfortunately, it's an issue that may not even present itself until later on in life. According to a recent study from the Harvard and Columbia's Mailman School of Public Health, children with behavioral problems are at a higher risk for inflammation and, ultimately, more serious health complications later on in life.
The information comes after a data analysis of more than 4,000 children in the Children of the 90s study at the University of Bristol. Children who had been displayed behavioral problems at the age of 8 were found to have higher levels of C-reactive protein (CRP) and Interleukin 6 (IL-6) when having their blood tested at the age of 10. Both can be an early warning sign that someone is at risk for chronic or inflammatory conditions later on in life.
Interestingly enough, this isn't the first study to indicate that children with behavioral problems may go on to develop health complications later on in life. However, this is the first study to actually link inflammation to mental health problems in children.
According to the researchers, the link may exist because many behavioral problems are associated with hypothalamic pituitary adrenal (HPA) axis function problems. This important part of the adrenal system affects how the body reacts to stress, and when it malfunctions, the two proteins that cause chronically elevated levels of inflammation are released – the tissue's response to injury.
Unfortunately, while it doesn't look like there is much that can be done about the issue, it is something that physicians need to be aware of. According to Health Canal, senior author Karestan Koenen, PhD, associate professor of Epidemiology at the Mailman School explains this in the journal Psychoneuroendocrinology:
"This new research shows, for the first time, that having behavioral problems in childhood can put children on the path to ill health much earlier than we previously realized. The important message for healthcare professionals is that they need to monitor the physical health as well as the mental health of children with behavioral problems in order to identify those at risk as early as possible."
Related Articles:
---
[ad]