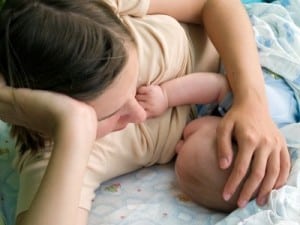 Mothers experiencing breastfeeding pain are usually told to use expressed breast milk on their nipples to help ease the pain. A new study, however, claims that Lansinoh Lanolin provided better pain relief.
The study, conducted by Drs. M. Abou-Dakn, J.W. Fluhr, M. Gensch, and A. Wockel and published in Skin Pharmacology and Physiology, compared the use of Lansinoh to expressed breastmilk on mothers experiencing pain and soreness form breastfeeding. Eighty-four women who were experiencing pain within 72 hours after giving birth were used in the study. Of the women, 45 were given Lansinoh to use to counter the pain. The rest used expressed breast milk. The women were all given education on breastfeeding and ways to counter the early pain.
The women were monitored by doctors on days three, seven, and 14 after beginning the study. They were questioned on their pain, as well as having photos taken to depict any nipple trauma that can occur during early breastfeeding. During this time, the women who were using the Lansinoh experienced lower rates of pain, trauma, and had fewer rates of stopping breastfeeding. These women also had higher amounts of healing after trauma.
As we know breastfeeding duration rates remain low, according to the latest report from the Centers for Disease Control (CDC). It is our goal to continue to bring products to the market that are helpful for breastfeeding moms and may in return increase duration of their breastfeeding experience," say Gina Ciagne, CLC, Senior Director of Breastfeeding Relations, Lansinoh Laboratories, Inc. "Sore, dry, or cracked nipples can be one of the main barriers to overcome as a breastfeeding mom. HPA® Lanolin has been proven effective in overcoming this barrier. Relieving pain and healing nipples as quickly and efficiently as possible, in addition to working with a professional who can help determine the underlying cause of the pain and skin damage, are crucial to enabling moms to establish breastfeeding and continue for as long as they can."
Based on this study, the researchers recommend the use of Lansinoh over expressed breast milk for pain and trauma during breastfeeding. Pain, soreness, and slight nipple damage can be common in the early days of breastfeeding. Preventing these from becoming roadblocks to breastfeeding is significantly important to increasing the breastfeeding rates of women.- Summer, staff writer
Related Articles:
---
[ad]