As parents, we want to give our children the best of everything in life. From the minute we find out we're pregnant, we sit, headphones to our bellies, with the sounds of Mozart or Beethoven floating from the speakers in an attempt to give our babies a head-start in life. When they are born, we give them educational toys that will teach them their shapes, colors, numbers, the alphabet, zoo animals, and so much more. We sing to them, we laugh with them, and we read to them. So when we come across a product that tells us it will teach our babies to read, we won't hesitate to pick it up. MyFox reports that a recent study suggests that these products are not all they are cracked up to be.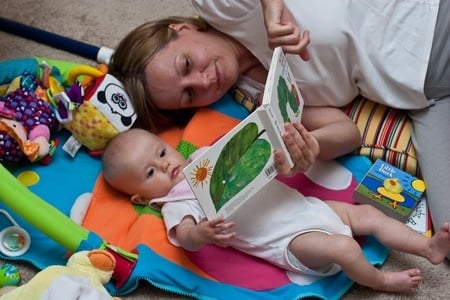 Frank Manis, a professor of psychology and education at the University of Southern California says that babies cannot read, explaining,
"Babies generally don't understand narratives or stories until the age of 3 to 4, and they don't acquire the skills to translate printed words into verbal words until the age of 4 or 5. This means that children don't generally learn to read simple books on their own with adequate understanding until the age of 5 to 6 years at the earliest."
But that hasn't stopped the barrage of products being advertised, claiming that their product can teach children as young as three months old to read. For the new study that was published on March 6 in the Journal of Educational Psychology, the researchers randomly assigned 61 of 117 infants, ages 9 to 18 months old, to use the popular Your Baby Can Read program for seven months. The program employs various different methods to teach infants to learn how to read, including flashcards, word books and DVDs. The other 56 infants in the study did not use any program.
After seven months, the researchers followed up on the children, where no apparent differences were evident. According to the study's words "Results indicated that babies did not learn to read using baby media, despite some parents displaying great confidence in the program's effectiveness." However, the makers of Your Baby Can Read say that babies can pick up reading skills through their "multi-sensory and interactive approach to teach receptive, expressive and written language skills simultaneously during the child's window of opportunity for learning language." The company that manufactures the product, called "Your Baby Can" had announced in 2012 that it was going out of business after complaints about the effectiveness of the program surfaced and an federal investigation was conducted. It appears though, that the product is still available for purchase.
In the study, researchers employed 14 different measurements that were designed to pick up on any early reading skills. Susan Neuman, chairwoman of the teaching and learning department at New York University's Steinhardt School of Culture, Education and Human Development and lead author of the study said "We tried to be as generous as possible. We wanted to look at the full spectrum of reading abilities." Neuman also made sure to express that the program showed no negative effects on the children who were using it.
Neuman suggests that parents who want to encourage learning in their little ones should "Talk, sing and read with them." She also advocates playing games with your children, too, saying "There are some wonderful little learning games that are targeted to children's development. You'll see a lot of puzzle and shape games, stories told in lively ways to children that are highly engaging. Those things are fine."
---
[ad]