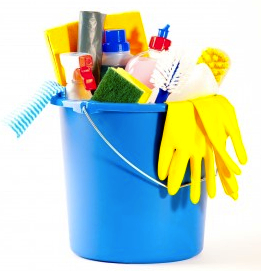 The American Academy of Pediatrics has released a study on the safety of toddlers and common household cleaners. Parents are urged to keep cleaners locked away and out of the hands of curious toddlers.
The AAP study looked at the numbers of cleaner related injuries to children between 1990 and 2006. Despite child-resistant packaging being added to most cleaners, toddlers are still managing to get into dangerous cleaning supplies. During the time frame examined, 267,269 children ages five and younger were treated for nonfatal injuries due to cleaning products. Of those children, 72 percent were aged 1 – 3 years.
The most common issue came from toddler ingesting bleach and bleach products. This corrosive cleaner is hazardous when swallowed, and can also create a dangerous gas when mixed with another common cleaning product – ammonia. Nearly one third of the injuries treated came from common acids and detergents, such as from pine oil cleaners, oven cleaners, toilet bowl products and dishwasher detergents.
"These estimates most likely reflect the ubiquitous nature of household cleaning products and the ease of accessibility to children," the report says. "Household cleaning products are alluring to children because of their color, scent, and brightly colored packaging."
Despite the dangers, overall the rates of injuries from household cleaners has gone down 46%. In 1990 there were 22,141 treated cases, that number was 11,964 in 2006. Despite the drop, the numbers are still high. Some packaging, such as spray bottles, still provide a potential for dangerous injuries among toddlers.
"The problem with a spray bottle is that the child can spray it in the face or they can also unscrew the cap and drink out of it," said Heath Jolliff, associate medical director for the Central Ohio Poison Center at Nationwide Children's Hospital.
The American Academy of Pediatrics suggests that parents place all cleaning products inside locked cabinets that are out of reach from curious toddlers. They also recommend that parents use child safety packaging, and keep chemicals stored in their original packaging at all times. – Summer, staff writer
---
[ad]