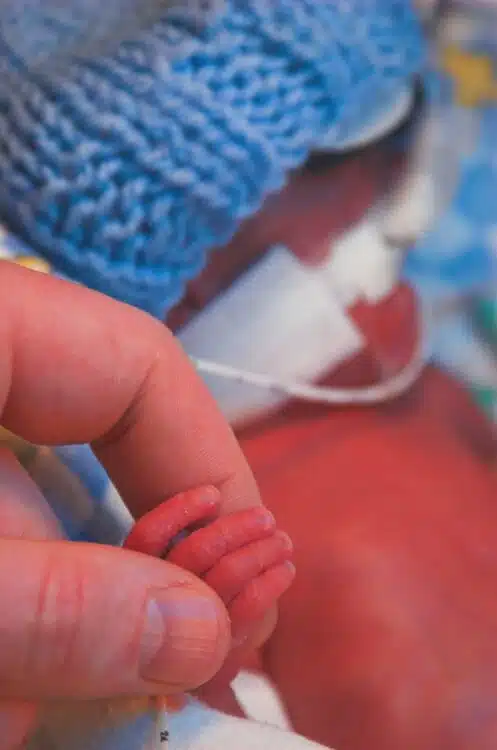 Premature birth can lead to serious complications for an infant—brain hemorrhaging, respiratory distress, vision problems, cerebral palsy, chronic lung disease, and more. But thanks to a breakthrough in fetal medicine, there may soon be a way to predict (and maybe even prevent) pre-term labor, giving babies a better chance at making it to term, and their mothers a little less worry.
Published in the Journal of Clinical Investigation and supported by the National Instituted of Health and a Prematurity Research Initiative grant from the March of Dimes, the study expanded on former research that had suggested signals from the fetus are actually responsible for the initiation of birth. Previously, it was unknown what those precise molecular mechanisms were, but researchers at UT Southwestern Medical Center have identified two proteins – steroid receptor coactivators 1 and 2 (SRC-1 and SRC-2) appeared to be crucial to the initiation of labor.
According to the researchers, two surfactant components needed for breathing outside the womb – surfactant protein A (SP-A) and platelet-activating factor (PAF) – were activated by the SRC-1 and SRC-2 when the mice fetuses neared full term. These components were then secreted into the lungs of the fetuses, which lead to an inflammatory response in the mother's uterus, which initiated labor.
"Our study provides compelling evidence that the fetus regulates the timing of its birth, and that this control occurs after these two gene regulatory proteins – SRC1- and SRC-2 – increase the production of surfactant components, surfactant protein A and platelet activating factor," senior author Dr. Carole Mendelson, Professor of Biochemistry, and Obstetrics and Gynecology at UT Southwestern, told Science Daily.
Researchers also discovered that a deficiency of both SRC-1 and SRC-2 inside the fetus' lungs drastically reduced the production of SP-A and PAF, which caused a one- to two-day labor delay in the mice. This is comparable to a three- to four-week delay in humans.
And though they are a long way from really being able to use this information to effectively delay labor, Dr. Mendelson, Director of the North Texas March of Dimes Birth Defects Center at UT Southwestern says this is a huge step in the right direction.
"By understanding the factors and pathways that initiate normal-term labor at 40 weeks, we can gain more insight into how to prevent preterm labor," Dr. Mendelson told Science Daily."
Related Articles:
---