A new study published in the journal Pediatrics has shown that children who receive the combined measles, mumps, rubella, and chickenpox (MMRV) vaccine are at double the risk of having febrile seizures than those who receive separate shots.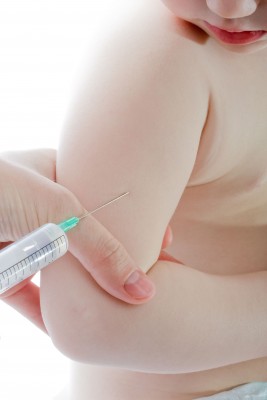 Researchers looked at 459,000 toddlers to see how they reacted to the combined MMRV vaccine compared to the separated shots. They found that children who received the combined shot had more reported seizures, most happening seven to 10 days after the injection.
"The risk of a febrile seizure after any measles-containing vaccine is low – about one febrile seizure in 1,000 doses" says lead study author, Dr. Nicola Klein, co-director of Kaiser Permanente's Vaccine Study Center. "But if a child gets the combination vaccine, the risk doubles," says Klein.
Febrile seizures are caused by the body's temperature spiking above 102°F. Though frightening to watch, Dr. Klein says they are harmless to the child. The American Academy of Pediatrics says febrile seizures do not cause brain damage or other problems. Still, the new information has caused the CDC to change it's recommendation of the MMRV vaccine for children.
"The ACIP has quite clearly said both [MMRV and MMR plus chickenpox separately] are good – both provide protection." But Schaffner says if there is any doubt for the parents or pediatrician, "two [vaccinations] is the way to go."
According to Dr. Klein, parents need to be aware of this risk of they choose the MMRV over the two separate shots. Though the combined shot means one less injection, it still carried the increased risk of seizures.
An average of one in 25 children will have a febrile seizure sometime in their life, typically during their toddler years. Febrile seizures can occur anywhere between 6 months and 5 years of age, and are usually brought on by a cold or infection. – Summer, Staff Writer
Related Articles:
---