For a singleton pregnancy, the closer you get to your due date, the better off your baby will be: the lungs will be better developed, the baby will have a chance to put on more weight, and sensitivity issues will be decreased. But according to a recent study, twins may actually fare better if they are delivered earlier rather than later.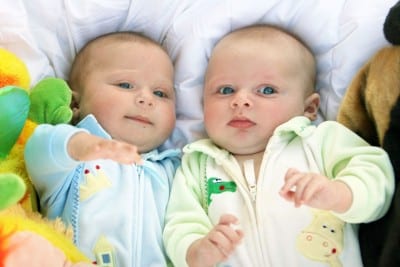 Twins are already at heightened risks for a myriad of health complications: lower birth weight, less lung development, an increased risk of SIDS and more. But it seems that delivering at 37 weeks, rather than 38 weeks or later can actually help reduce some of the risks.
"We found that at 37 weeks, elective birth is associated with a significant reduction in the risk of serious morbidity for infants, without increasing the complications related to immaturity or induction of labor," said professor Jodie Dodd from the University of Adelaide's Robinson Institute and the Women's & Children's Hospital. The study, said to be the largest of its kind, compared 235 women with twin pregnancies in Australia, New Zealand and Italy. Women who had infants born at 37 weeks were less likely to give birth to infants that were small for their gestational age than twins born at 38 weeks or later. It is thought that this fact is connected to the lower risk of other health complications.

"[The] slowing of the growth rate can result in low birth weight, which is associated with an increased need for care in the neonatal nursery in the short term and increased risk of health problems later in life, including heart risk and diabetes," Dodd said. "There is also the risk of one or both twins being stillborn."
She hopes that her study, published in the British Journal of Obstetrics & Gynecology, will help change future recommendations regarding the birth of twins.
"We hope this study will help clinicians to make recommendations at birth, and therefore lead to happier, healthier lives for their babies," Dodd stated.
Related Articles:
SOURCE
Image credit: barsik / 123RF Stock Photo
---