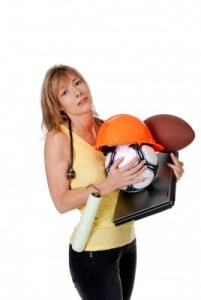 Are mothers the real superheros? A new research study found that mothers complete at least 25 tasks each day. Though some tasks get forgotten during the course of a day, how much most mothers do is still an astounding number.
In most homes, the mother does the majority of the care of the children and the house. Whether a working mother or a stay at home mother, there are many tasks that have to be completed each day in order for things to continue to run smoothly. A study of over 3,000 mothers found that while nine out of ten mothers admit to forgetting some tasks during the day, they are still performing several tasks each day.
A spokesman for Aunt Bessie's, the UK homebaked goods company that carried out the research, said:
"Mums have to remember so much to keep the rest of the family going each day.

"Everything from making sure the children have the things they need for school, to getting dinner in is often mum's responsibility.

"And working mums have an even harder time – as well as having to remember everything to keep the household going, they also have to hold down a job.

"So it's no surprise that something gets forgotten every now and then.
According to the research, mothers have to remember important dates, pay bills, plan for meals, prepare children, plan for the weather, and several other tasks each day. Many of them are routine and have become automatic in the function of the day.
Aunt Bessie's list of most common tasks that a mom does each includes:

Birthdays of friends and family members
Taking ingredients out of the freezer to defrost for the evening meal
Paying the bills
Doctor or dentist appointments
Getting the ingredients from the shop for the evening meal
Having clean shirts and trousers for kiddies
Packed lunches are made
Being on time for the school run
Feed the pets
If it is raining making sure they have a rain coat
Getting the kids to do their homework
Never leave the house without wet wipes, tissues and snacks in handbag
A drink is taken to school
Homework is taken to school
PE kits are taken to school on the right day
Getting the kids to do their reading
Packed lunches are taken to school
Permission slips for school clubs/day trips
School events such as fetes, shows etc
Taking library books back to the library/school library
Birthday parties for your children's friends
Make sure they've taken their medications (hayfever etc)
The right books/textbooks are taken into school
Money for children's school lunch
Making sure the child has their favourite comfort/cuddly toy
The research also looked at why mothers forget to do any of these tasks on a given day. Of the mothers surveyed, 35 percent blame it on being too busy while 23 percent say they are often in too much of a rush. Another 10 percent said they felt too tired to be able to remember all of the tasks they had to do.
Considering how much a mother does each day, it is no wonder that only 18 percent of those surveyed said they felt guilty when a task was forgotten. For many mothers, there is simply too much to do. – Summer, staff writer
Related Articles:
---