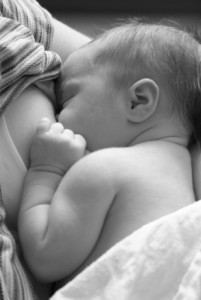 New mothers who are over the age of 30 years or are overweight may face more problems with early breastfeeding says a new study from Ohio. However, mothers should not let early problems stop them before they even begin.
Dr. Laurie A. Nommsen-Rivers of Cincinnati Children's Hospital Medical Center in Ohio, the lead researcher on the new study, found that some mothers who are over 30 or overweight have a longer delay before their breastmilk comes in. For most mothers, the switch from colostrum to milk happens withing 72 hours after birth. However, the women in these risk groups may see a longer time before their real milk comes in.
A delay in milk can be frustrating to new mothers, especially if their infants lose more than the expected weight loss after birth. Because of this, many mothers assume breastfeeding is not going to work for them. However, Nommsen-Rivers emphasizes that even with the delays most women can go on to have a wonderful breastfeeding relationship. They just need extra support and care while they wait for their milk to come in.
The study looked at first-time mothers who had faced delayed lactation after birth. Though first time mothers often have a longer delay in milk, the researchers found that women who were older were more likely to not experience engorgement until past the 72 hour mark. Of the women over 30, 58 percent had this delay, compared to only 39 percent of women under 30.
Weight also seemed to have an effect on breastmilk delay. Women who were considered an average weight only faced the delay 31 percent. Overweight women were delayed 45 percent, while women considered obese faced delays 54 percent.
Outside of age or weight, early breastfeeding was also found to be very important in breastmilk delays. Mothers who had at least two good breastfeeding sessions within the first 24 hours faced fewer breastmilk delays. At least 65 percent of mothers who had only one or no good breastfeeding moments withn the first 24 hours experienced delays of their milk coming in.
The study was conducted by surveying 431 mothers who gave birth at one California medical center. The mothers were asked if they felt their breasts were "noticeably fuller" within the first 3 days after birth.
Researchers are not certain what causes these factors to be linked with delayed milk production. According to Nommsen-Rivers however, finding reasons for delayed milk is important. With help, more women who want to breastfeed may be able to overcome issues such as delayed milk production. – Summer, staff writer
Related Articles:
---
[ad]