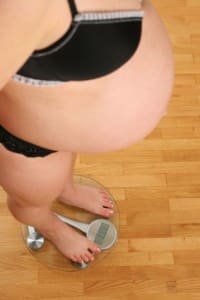 Several researches have shown that women who are overweight during pregnancy may have complications during birth and might also increase risks for their baby. Now clinical trials suggest that women who need to control their weight gain, especially if they have a higher than average Body Mass Index (BMI), can do so safely even if they are pregnant without harming the child.
The study, reported in the journal Obstetrics & Gynecology is based on a number of clinical trials analysis.
As per the Institute of Medicine (IOM), an advisory panel to the U.S. government moms-to-be with a BMI 30 or greater should gain 11 to 20 pounds during pregnancy. For overweight women(BMI 25–29.9) the recommendation is 15 to 25 pounds and for normal weight women 25 to 35 pounds of weight gain are recommended during pregnancy.
But some experts feel that the IOM recommendations need to be stricter for women in the higher BMI category as many of them need to shed some weight in order to reduce the risk they might put on themselves and the baby.
The reality also is that many overweight women gain more weight during pregnancy than the recommendation.
The clinical trials were done by Julie A. Quinlivan of Ramsay Health Care in Joondalup, Australia and her colleagues to see whether pregnant women in this category could safely shed weight during pregnancy without harming the baby.
It included 537 women who were randomly assigned to either a supervised dietary intervention or a control group. Women in the interventions group received counseling on healthy eating and maintained food diaries to keep track of their calories.
Researchers combined the results of four trials that specifically looked at diet counselling and found that, on average, extremely overweight pregnant women who got diet help gained 14 pounds less than those who received no special advice.
These women were also able to keep their weight in the recommended weight scale by IOM. More importantly the weight loss had no affect on the fetus's health or its healthy weight gain.
Dr. Raul Artal, head of obstetrics, gynaecology and women's health at Saint Louis University School of Medicine believes the IOM recommendations are very generous.
In his own research the doctor found that women with a high BMI could safely maintain their present weight or lose some extra pounds during pregnancy without affecting the baby in any way. In fact the weight loss rather than the weight gain could be a better option in the long run for the mom and the baby.
These moms are, however, more prone to pregnancy related diabetes, high blood pressure and the need to have C-sections as their babies might be larger than normal newborns.
Artal says that when extremely overweight women try to maintain their weight gain during pregnancy it not only helps in lowering the risk of having larger than normal newborns, it also does not impair fetal growth.
But the researchers warn that this does not mean that these women should begin the latest fad diet. The diet control should be strictly under medical supervision.
Artal suggests women should in general eat a healthy balanced diet and do moderate physical activities like 30 minutes of walking a day.
"Pregnancy is an ideal time to start a healthy lifestyle," Artal said."Obese women, should not be excluded from recommendations to adopt a healthy lifestyle."
What this analysis again proves that despite the popular belief that exercise should be restricted and weight gain is okay during pregnancy, it depends a lot on the existing health condition of the woman. If she is in fact already troubled with her excessive weight and is obese, it is okay to shed the pounds without affecting the baby.
Related Articles:
---
[ad]