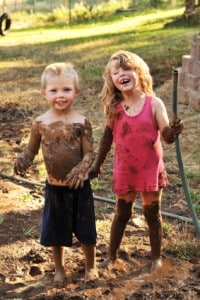 Messy clothes, soiled hands are a given if kids are playing outside and sometimes it seems next to impossible to stop them from getting dirty. But new research published in the current issue of Kidsafe NSW's playgrounds newsletter suggests that the dirt is doing more good than harm to the kids.
Panic stricken parents, who are always fearful of sending their kids out to play in the park, can now relax a bit knowing that the soil-borne bacteria that their children might inhale while playing are beneficial for their growth and development.
The researchers found out that when mice were given the dirt bacteria Mycobacterium vaccae, they navigated through the maze two times faster than other mice that were not given the bacteria.
The research was welcomed by Kidsafe NSW's Playground Advisory Unit program manager Kate Fraser. She says,
"Over the past few years terms like 'cotton wool kids' and 'helicopter parents' are becoming really common. So we thought it was time to air the laundry on what's happening with our play spaces and make sure we are offering kids challenges.We need to make playgrounds safe, but also offer a certain amount of risk and controlled risk. It's a real balancing act."
When the bacteria is inhaled by kids, scientists suggest that it helps reduce anxiety, increase levels of serotonin, and stimulates growth in certain neurons of the brain. Thus it makes them smarter.
Kate however also says that parents must be careful that while kids play with dirt they are not around potting mix that might contain harmful bacteria. "But as long as safety directions are followed, that can be a great learning experience, too," she adds.
The Kidsafe Unit is organising a conference this week where one of the topics of discussion will be the need for natural play environment for kids. It is an important issue as outdoor activities have multifaceted advantages for the normal development of kids and bonding them with the natural world.
"Many pre-schools and schools are planting sustainable garden beds and are teaching kids how plants grow," Ms Fraser said. "They learn about the environment and where their food comes from. The benefits are endless. The trend is definitely to make the most of the natural environment."
– Atula, Staff Writer
Related Articles:
---
[ad]