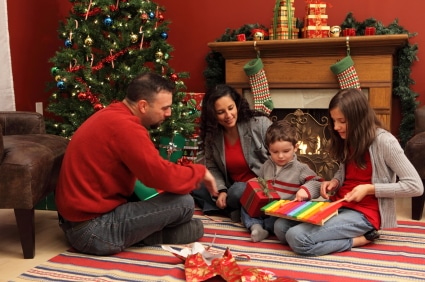 Christmas is nearly here and my family is excited. In anticipation, I have imagined Christmas morning a dozen times and I know just how it will go.
We will come down the stairs, refreshed after a good night's sleep. Everyone will marvel at the perfectly wrapped presents under the perfectly trimmed tree. We will give each other the gifts we've always wanted and be blissfully happy as we sit together enjoying the most delicious shortbread that, by some Christmas miracle, will have no calories.
It's unreasonable expectations, such as these, that can cause tension and disappointment at Christmas. Maybe it would be easier if we were navigating by a roadmap based more in realism than whimsy. The fine people who make Jarlsberg cheese, commissioned a survey of 4000 British homes and generated an itinerary of the average family's Christmas. See how it compares with your own.
Christmas day begins at 7:55 a.m. The family staggers, bleary eyed, downstairs and is opening presents by 8:19 a.m.
At 8:39 a.m. the chocolate consumption has begun, making it difficult to enjoy the proper breakfast the family sits down to at 9:02 a.m.
At 9:58 a.m. there is a family squabble, perhaps the first of many. By 11:07 a.m. the parents are yelling at the kids and at 11:48 a.m. someone looks at their watch, declares that it's close enough to noon and downs the day's first alcoholic bevy.
The average Brit is sitting down to dinner at 3:24 p.m. Eighty-five percent of diners tuck into a feast of turkey with all the traditional trimmings.
Full of Christmas cheer the father of the family is snoring on the couch at 4:59 p.m. Those who are still awake by 5:46 p.m. will start playing board games. The magic of Christmas draws to a close at 11:39 p.m. when the family heads to bed.
Way to demystify Christmas Jarlsberg. The survey doesn't paint a Norman Rockwell portrait of the average Christmas but I must admit, it takes some of the pressure off.
In the midst of the mayhem on December 25th, if you think back on this and realise that your family is the one from the Jarlsberg survey, relax. It turns out you're having a merry Christmas after all. – Jen R, Staff Writer
---