If you are a mom who has experienced severe morning sickness while you were pregnant than you will know there aren't a lot of options for relief for expectant moms.  In an attempt to help their patients through this difficult time some doctors have been prescribing ondansetron, a drug that is approved by Health Canada to treat nausea and vomiting in chemotherapy and surgery patients.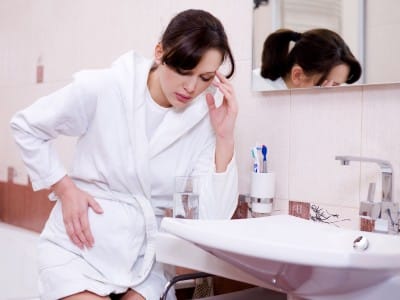 Even though the drug manufacturer says such use is "not recommended", researchers at Toronto's Sick Kids Hospital are concerned it is being prescribed "off label" to expectant mothers without hard proof it is safe for them and their babies.
While looking at a 2012 analysis the Toronto Star found that at least 20 Canadian women treated with ondansetron for vomiting in pregnancy experienced serious suspected side-effects, including two infant deaths and multiple cases of newborns with heart defects and kidney malformations.
Currently there is no law or regulation in Canada that stops doctors from prescribing drugs for conditions or age groups for which it has not been approved.
The Star notes that in 2012, a US Senate committee told Health Canada officials it was concerned about whether the regulator was monitoring the effect of off-label prescriptions on vulnerable Canadians, especially pregnant women.
While looking through the FDA's side-effect reports the Star found that in six cases, a suspected side-effect of ondansetron was listed as "fetal growth restriction."
All the ondansetron cases are from 2012. They include:
A baby born with a "musculoskeletal anomaly."
A doctor reported that ondansetron was the suspected cause of a baby's mouth deformity, jaundice, heart murmur and two heart defects, including "atrial septal defect," otherwise known as a hole in the heart.
Doctors, they say, prescribe ondansetron to treat "hyperemesis gravidarum," an extreme form of morning sickness marked by relentless vomiting causing significant weight loss and dehydration.  The condition can virtually cripple a mom-to-be, and if not treated can be fatal for the baby.  Moms online will often recommend ondansetron to others, raving about its ability to quell the HG symptoms.
For the past decade researchers from Toronto to Denmark have been studying  ondansetron's effect during pregnancy, with conflicting results saying more research is needed.
Recently researchers in Denmark looked at early 900,000 births, and found  a two-fold increase in heart defects in babies whose mothers received ondansetron. After expanding the study to include more births and arriving at the same conclusion; they recently submitted their results to an academic journal, the lead researcher told the Star.
Health Canada told The Star ondansetron is on their radar after their issued alerts concerning an increased risk of heart arrhythmias and possibly fatal reactions for patients on the drug for approved treatments, but there is no reason to probe the reported birth deformities.
"Currently, no emerging safety issues requiring further assessment related to ondansetron use in pregnant women have been identified," a spokesperson said in a statement.
Moms-to-be however, should be aware of the concern and consider alternate treatments until more research can be done to determine if there is a safe way to take this product.   The University of Buffalo is currently conducting clinical trials on the effectiveness of the drug for hyperemesis gravidarum, but their study does not include further effects on the baby.
---
[ad]