Their first piece of freedom, the tricycle is the perfect bike for little ones as they only need to master a couple quick skills to get moving.  Now that the weather has warmed up it's time for kids to get out and explore their neighborhoods!
We have picked out some of our favorite tricycles to get kids cruising!
Smart Trike Touch Steering($155) – One of the best bikes on the market for kids of all developmental stages, the Smart Trike coverts to grow with your child. Usable from 10 months+, little ones will stay safe in the 5-point harness with bumper pads while you steer from the back. As they get older parents can remove the pads and harness to give the more freedom to cruise around the neighborhood! With 4 stages, this trike can be used from 10 months to past 3.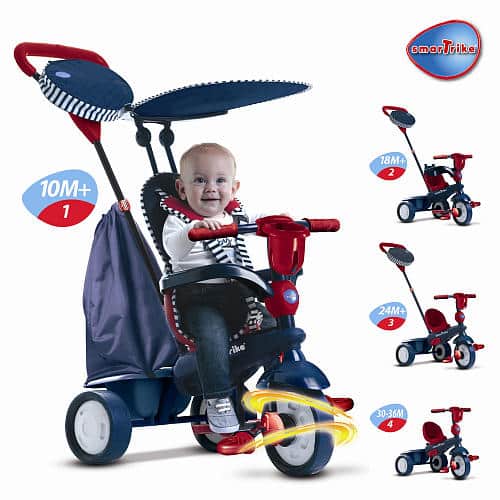 Radio Flyer's Fold 2 Go Tricycle($70) folds for easy portability and storage, and has an easy-to-carry handle grip. The trike also has a safety latch to keep it secure during use and a low center-of-gravity and controlled turning radius which offers stability. The sturdy steel construction and adjustable seat ensure your child will enjoy the trike for years.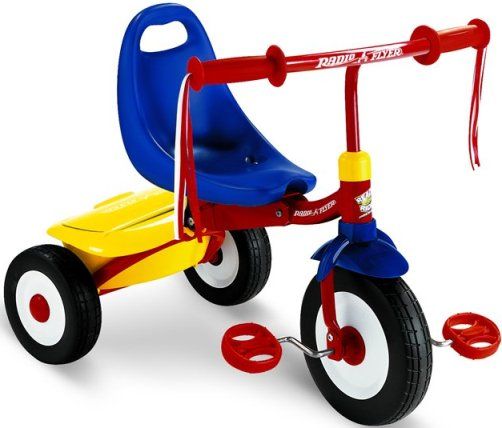 Schwinn Roadster 12-Inch Trike ($90)-  This trike is designed with a roadster look that has a low center of gravity to prevent tip-overs.  It comes with chrome handlebars with long tassels, a bell, an adjustable, sculpted seat for optimum comfort and support, and a real wood deck with burned-in logo!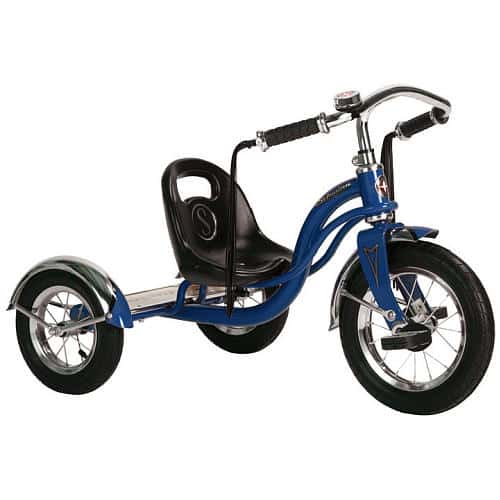 Fisher-Price Tough Trike($40) – Designed in a variety of themes like Dora the Explorer, Thomas the Train, Barbie and Harley Davidson, this trike offer friendly features like a wide, stable wheel base, easy-grip handlebars and big foot pedals.  Kids can ride smoothly with its comfort-ride seat, also lifts to reveal a secret storage compartment.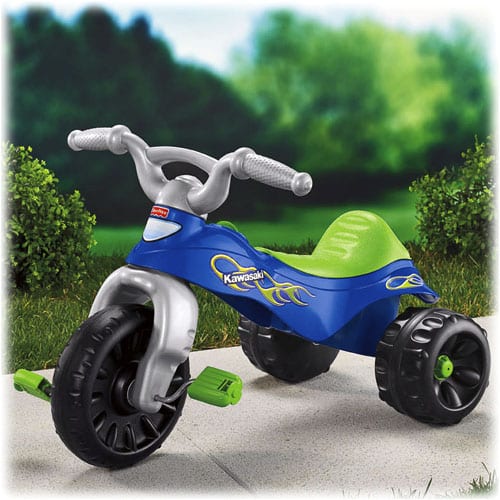 Radio Flyer Radio Flyer Deluxe Steer and Stroll Trike($70) – Perfect for new drivers, the Radio Flyer Radio Flyer Deluxe Steer and Stroll Trike has an innovative internal geared steering feature allows adult to turn front wheel with push handle.  Freewheeling pedals allow rider to coast while adult pushes.  At the back there is also a covered storage bin so kids can take their favorite toys along!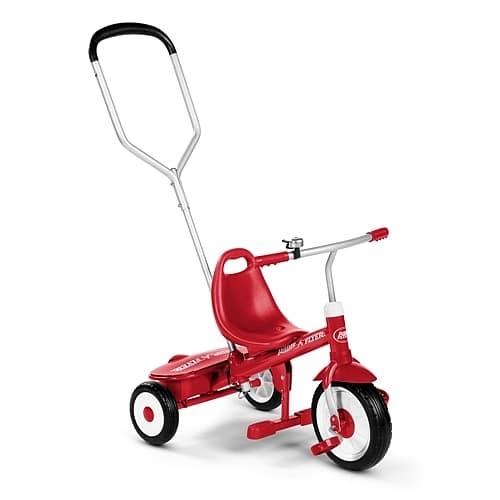 Joovy Tricycoo Tricycle($130) – Kids as young as 18 months can ride in the Tricycoo thanks to bumpers that surround the child and pedals that flip out of the way as mom or dad push them using the removable handle.    As they get older and more confident, unlock the wheels, remove the parent bar and let them go!  The Tricycoo also includes toy storage at the back and a fun bell on the handlebar!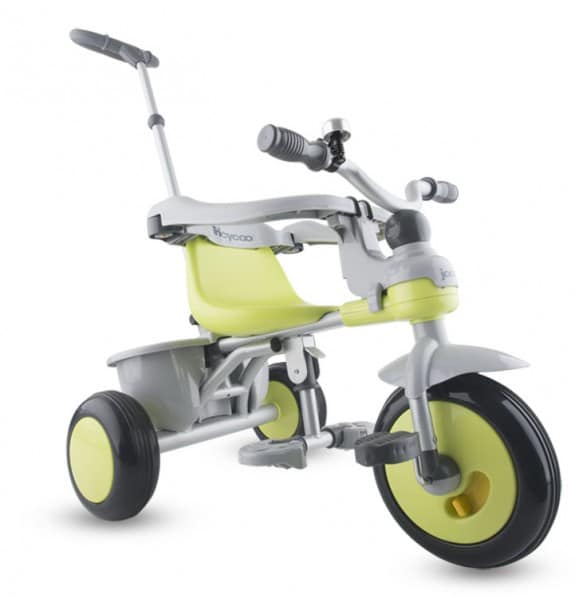 Fly Bike® Foldable Indoor/Outdoor Toddlers Glide Tricycle($80) – Not a traditional trike, this hybrid three wheeler will give toddlers more confidence and balance before tackling a trike with pedals.  It comes assembled and folds up easily for storage.  It is easily to steer and runs on skateboard like wheels so it's quiet.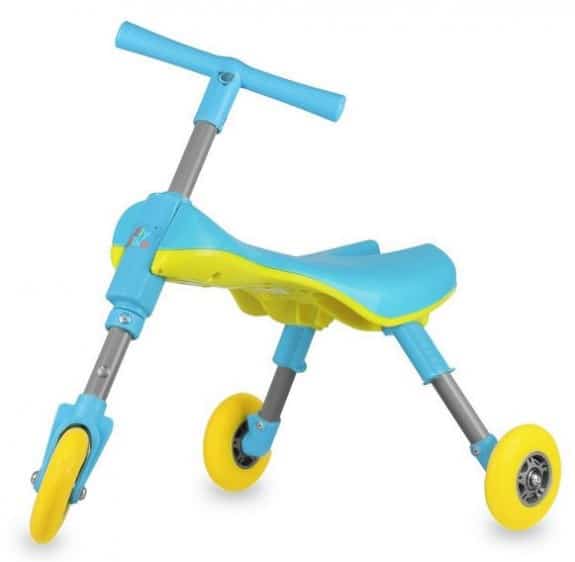 Kawasaki Trike($80) – This rugged trike features big fat tires, wide non-slip pedals, padded adjustable seat, safety steering stop to prevent tipping, safety grips, hot Kawasaki graphics AND a real shock absorber on the rear end.   This is perfect for the kids who wants to go through sand, gravel and uneven terrain!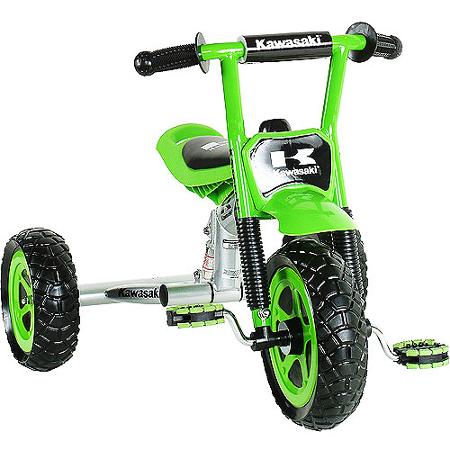 Quadra Byke Kids Play Vehicles($140) – Designed to grow with your child from a four wheeler mini quad bike, to a trike, and then your tot's first two wheel bicycle, this unique byke features highly efficient band brakes (front & rear), wide puncture proof rubber wheels for extra stability and quality construction. The unique axle system allows parents to quickly change this wheeled toy from 4 to 3 to 2 wheels. Quadrabyke 'grows' with the child's development between age 3 to 6.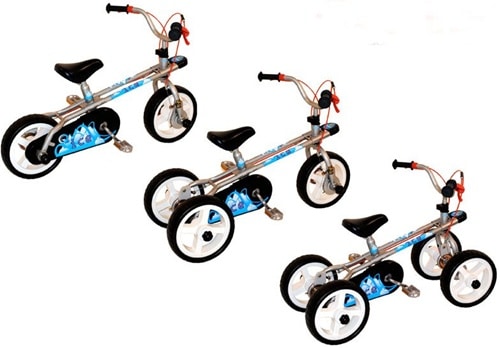 MyRider Tandem Trike($200) – Tricycle built for 2! 
Have twins or kids that are close in age? The MyRider Tandem is a robust trike that will let kids ride with a friend or sibling!  The MyRider Tandem's yellow powder-coated frame resists rust and scratches.  It has a Grooved Vario Seat handle for easier carrying by adults,  storage tray beneath, a durable welded steel frame,  sturdy, solid rubber tires on spoke-less wheels and an easy one-bolt assembly.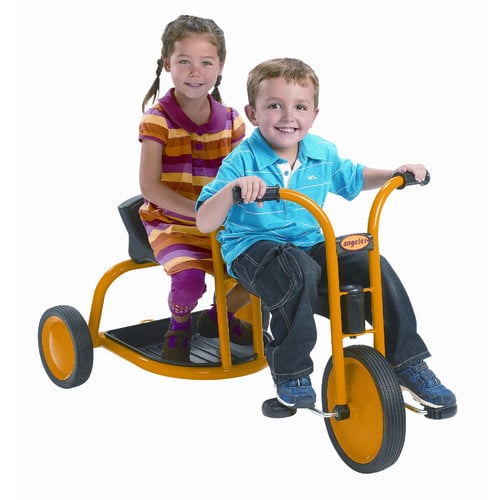 *Post includes Affiliate Links*
---
[ad]