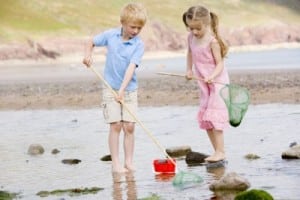 When I'm looking to purchase any skin care products for my family I always check Cosmetics Database for their top 5 recommendations. They rate everything from 0 to 10 (10 being the worst) and list each ingredient that is both harmful and helpful.
Before I knew about this site I used quite a few of the popular pharmaceutical sunscreen brands for myself and was surprised to learn that many of them contained chemicals that completely counteracted what I was trying to do – keep my skin safe.
Yesterday I came across Consumer Report's list of 'Best sunscreens on the market'. The popular magazine recently released results of its testing of 22 sprays, creams and lotions.
While analyzing these products they looked to see whether the lotions and sprays met their labeled sun protection factor (SPF), which blocks the UVB rays. They also tested protection against UVA rays, asked volunteers to rate the smell and feel of the products and looked at how waterproof the products were when skin was submerged under water for 80 minutes and then exposed to UV rays.
What they failed to look at, however, was the actual chemical make up of the products they were recommending.  If cross referenced with the cosmetics database's rankings, the whole Consumer Reports list is rated with HIGH for health concerns. In fact not one of the sunscreen's they have recommended is rated under a 7, which should worry most parents.
So can your family be protected from the sun without having to sacrifice their overall health? Absolutely. If you search the Cosmetics Database of sun protection products SPF 30+ you will find a long list of products that offer excellent UVA/UVB protection, while still being waterproof  that are not tested on animals.
A few blistering sunburns in childhood can double a person's lifetime chances of developing serious forms of skin cancer so it's important to keep your family safe in the sun by using a sunscreen that's effective and safe.
And while 'good for you' sometimes comes with the 'hard to find' stigma, many of the natural products listed on the Cosmetics Database website can be purchased on Amazon.
Related Articles:
---
[ad]