Dawn Flemming, a nurse from South Ozone Park could sense that something was wrong with her unborn child looking at the doctor's expression. Tests had shown a mango-sized tumor on the baby's neck and doctors feared she would not survive her delivery.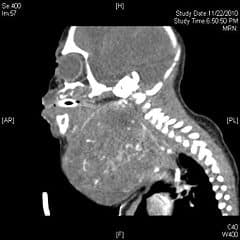 When Dawn was 24 weeks pregnant it was revealed that her growing baby had a tumor.
"I could tell something was wrong by the doctors' body language," says Flemming, "I noticed people coming in, passing looks at each other but not saying anything."
The doctors predicted that the baby might die once out of the womb as the tumor was blocking her thin pencil-like airways and she would not be able to breathe once detached from the placenta.
Dawn, decided to get a second opinion from doctors at New York Presbyterian Weill Cornell Medical Center.
Here they signed her up for a rare surgery. Doctors were to partially deliver Jade through a C-section and insert an artificial airway so that she could breathe when she came out of the womb. The medical team had 60 minutes to operate while the baby remained attached to her mother's umbilical cord.
Dr. Vikas Modi, a pediatrician, and a neck surgeon was one of the 24 doctors in the operating room. They feared that they would have to remove the tumor a bit if it had already crushed the baby's vital airways.
He says, "We had no idea what we were getting into. It was an incredible feeling. It's why [we] go into medicine."
Fortunately, the tumor had not blocked the airways and the operation could be performed safely. It was the first time that the surgery known as EXIT (ex-utero intrapartum treatment) was done at the Cornell campus.
Once the delivery was complete, baby Jade weighed 4 pounds, 20 percent of which was because of her tumor. Five days later she was again in the operating room, where doctors removed her tumor. She was then under observation for two months at the hospital.
"I could finally breathe again," Flemming said. "I felt like something was sitting on my chest since the diagnosis."
Jade is now a healthy four-month-old weighing 12 pounds and busy playing with her older siblings 15-year-old Jason and 13-year-old Jayda. Dawn and her husband Jason say they are busy but relieved.
"I have a greater appreciation for life and the anxiety patients go through," Dawn said. "When she grows up she's going to be a fighter because she's overcome so much. She's just a miracle."
– Atula, Staff Writer
Related Articles:
---