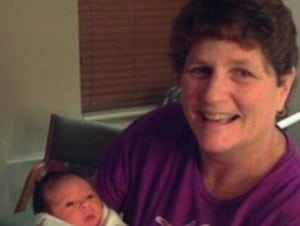 According to the American Society For Reproductive Medicine, infertility affects 6.1 million American women and their partners, which is about 10 percent of the reproductive age population. While many of these couples are able to become pregnant through medication, microsurgery, and assisted reproductive technologies (ART), such as in vitro fertilization some need to pursue other avenues like adoption or surrogacy.   Meredith Olafson has helped many couples become parents, giving birth to 15 babies in her lifetime, 11 that were not hers.
Meredith has carried children for six very lucky families – two sets of triplets, one set of twins and three singletons. She makes very little money from her surrogacies, despite the fact that most surrogates make as much as $250,000 per pregnancy.
So why does she do it? Well, part of it might have something to do with how easy pregnancy is for Meredith. The North Dakota resident has never had morning sickness. She gains very little weight during her pregnancies. She usually works, right up until the day of delivery. And her labors are rather short when compared to most women.
"My longest was my oldest daughter. She took me an hour and 15 minutes to deliver," said Meredith. "My second daughter took me 30 minutes and the last two took me 20 minutes."
But what really makes it all worth it, according to Meredith, is giving the gift of parenthood. She says that being a mother herself, she can't imagine letting others go on deprived of the experience. So, when couples approached her, asking her to be a surrogate, she just couldn't say no.
But how does she manage to let each and every one of those surrogate babies go? If you've ever been a mother, you know that the bonding experience happens long before the baby is born. Yet, Meredith almost seems to have being a surrogate down to a science. She knows that she only supplies the womb, a place for the baby to grow. Every ounce of the baby's DNA comes from the parents.
"Those parents are the actual mother and father and so the mindset for you at that time is you know you're handing them their child," said Meredith. "It has nothing to do with you whatsoever. It makes it a lot easier."
And to those that she has been a surrogate for, Meredith is nothing short of an angel.
Jody Wegge and her husband, Dan, wanted a second child, but after their first child, Jody was informed that it would be unsafe for her to give birth again. They had heard about Meredith through word of mouth back in 1998. Once they found her, Meredith did, in fact agree to provide the womb needed to carry their children. Now, the Wegge family has 12-year-old triplets, thanks to Meredith and her uterus.
"I love her," said Jody Wegge. "I just…there's no words to express how I feel about her."
But it seems that the uterus is being retired. Meredith just gave birth on March 29th to a healthy baby girl – her last surrogate baby. It was her sixth pregnancy for another couple and the 15th child she carried inside that uterus.
"I am officially retiring the uterus," said Meredith.
TODAY plans to check back with Meredith and find out if she changes her mind. Whether she officially retires or not, she has made a lot of parents happy and her acts of love are nothing short of beautiful.
Related Articles:
---
[ad]