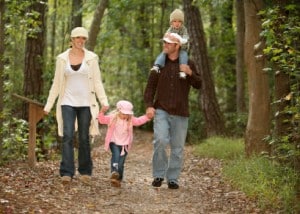 A new survey out of Scotland found that the majority of parents feel their work and family balance is "not ideal." For many working parents, being able to spend more time with their families would be the better option.
For 64 percent of the respondents, too many working hours is taking away from precious family time together. However, the survey also fond that many parents are facing working longer hours than before as it becomes more difficult to pay bills on their current incomes.
The survey on working parents, done by Ipsos MORI, found that 77 percent of parents wold love to work fewer hours and be home with their children more. Due to this, grandparents are increasingly finding themselves in care giving roles to children while parents work. At least 72 percent of the respondents said they were using families and friends to care for their children rather than more expensive services such as daycare.
Nearly half of the families surveyed said they were cutting back on family vacations and holidays, giving them even less time together. Around 40 percent had reduce their food budgets to try to save money.
Clare Simpson, project manager at PAS, said: "In previous surveys commissioned by PAS, parents have told us that they find raising children to be extremely challenging.

"Many parents now have no option but to go out to work and it is clear that this is putting pressure on parents who are having to choose between earning and spending time with their children."
The results of this survey show that there is still much to be done to create a better work/home balance. As costs continue to increase, many families find themselves needing to work longer hours and take fewer breaks in order to cover costs, unfortunately, this can mean that family life takes a hit. – Summer, staff writer
Related Articles:
---
[ad]