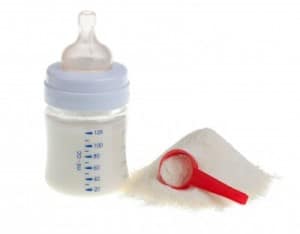 The Enfamil powdered infant formula which had been suspected to have caused the rare bacterial infections that killed two newborns and sickened two others last month is no longer linked to the illnesses, health officials have announced.
On December 18th Avery Cornett of Lebanon, Mo. passed away at just 10 days old after he showed signs of a stomach ache and seemed lethargic. His parents took him to the emergency room. After performing tests at the hospital, it was found that Avery had a rare bacterial infection – Cronobacter sakazakii. And while doctors knew what was making Avery ill, it was already too late to save him. A few days after arriving at the hospital, Avery was removed from life support.
The new born's death prompted many manufacturers to voluntarily pull the suspected formulas from their shelves. The CDC started an investigation to determine if there were any similar illnesses across the country. In total 12 cases of Cronobacter had occurred in 2011. Three other states reported cases of Cronobacter infections in infants over the last month; one had died and two other had become extremely ill.
Cronobacter can be found in infant formula if it is not handled properly. The bacteria can also be found in other plant sources, like wheat and rice. Infection from the bacteria can be treated, but it is extremely dangerous for infants younger than one month old and premature babies. It must also be detected early to help prevent the illness from getting out of control.
To add to the problem, there is no way to sterilize powdered infant formula against all bacteria nor is there a way to prevent bacteria from making its way into the containers after they have been shelved or brought home. Formula manufacturers take all the precautions they can, however, and they even save samples of every batch sent out so that they can be tested at a later date if issues arise, like an outbreak of Cronobacter.
Batches suspected in the recent Cronobacter infections were tested, and according to the CDC and the FDA, all batches have been cleared. Other various brands of formula and distilled water, known as nursing water, were tested as well. No contamination was found. Bacterial contamination was found, however, in two samples that were obtained from the families of the ill infants.
"CDC laboratory tests of samples provided by the Missouri Department of Health and Senior Services found Cronobacter bacteria in an opened container of infant formula, an opened bottle of nursery water and prepared infant formula," the agency said about Avery's samples. "It is unclear how the contamination occurred."
Scientists also found bacteria in a case of infant formula from Illinois that was suspected in the illness of an Illinois infant. The genetic composition of this case, however, was different from the bacteria found in the Missouri case. Samples could not be obtained from the Oklahoma or Florida cases.
Because the pre-sale samples have been cleared, it is evident that something must have happened between the manufacturer and the babies. This could be anywhere, from the transport to the store to the storage or preparation in the home.
Parents should be aware of the safety guidelines for preparing infant formula, sterilizing and cleaning bottles and proper hand washing techniques to help prevent infection. This includes hand washing before prepping the formula, sterilizing all bottles and feeding equipment, using only sterilized water and only prepping enough formula for one feeding. Full and in-depth guidelines are made available to parents through the World Health Organization.
Related Articles:
---
[ad]