The adorable Broderick twins, Tabitha and Marion(Loretta) were photographed in New York City on Friday making their way home from school.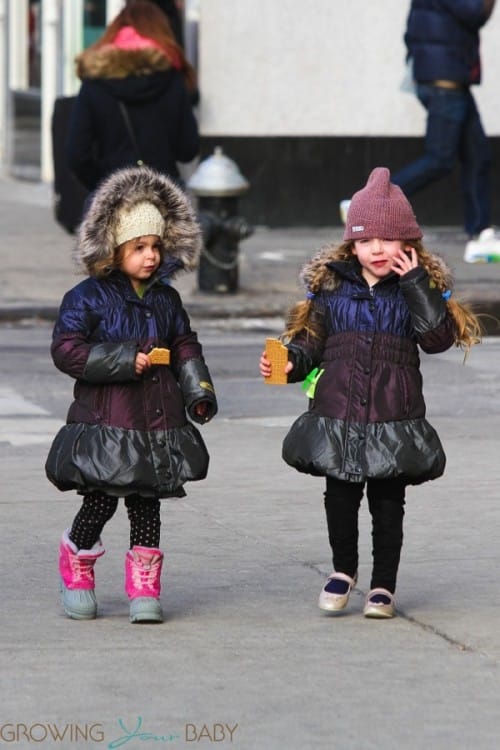 Always entertaining, the girls laughed, ran and made the cutest faces at each other, while snacking on graham crackers and fruit pouches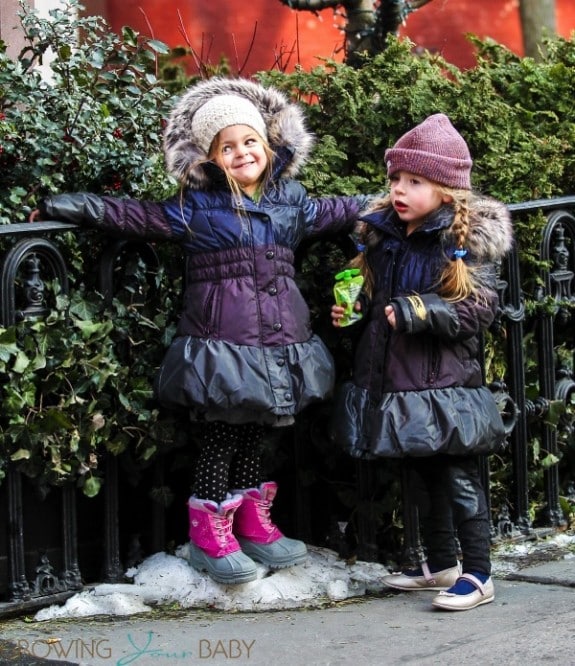 Fashionable and full of energy, Tabitha and Loretta wore matching puffy jackets and knitted caps to stay warm.
The girls' mom Sarah Jessica Parker recently collaborated with Hallmark to create a collection that will include 70 fashionable cards, bundles of stationery, and gift wrap options.   At the launch she revealed her kids are crafty and are that they make their own valentines cards.
'Well, we don't do crafts at home, but we do what I did when I was a child. I give them red construction paper, lace, tissue paper, and cardboard that comes from a pair of stockings or tights, and we make our own cards. They're so special, and the kids love it. The kids can't hand out cards in school anymore, but we do exchange them with each other.'
Those cards aren't just limited to special occasions, but also when they want to give thanks.
"My daughters write thank you notes, and they're just learning to read and be able to spell," the actress told PEOPLE "It takes a significant amount of time just to do one, and they need a lot of adult supervision."
Being creative is something that comes naturally.
"They're all preternaturally gifted artists — they probably spend 80 percent of their free time drawing," the proud mom said "Every morning before breakfast, we have to drag them away from drawing and painting, even my son. They're far more gifted than I ever was."
{SPLASH}
---
[ad]