Out on Saturday(October 13th) the Broderick twins, Marion and Tabitha, were photographed taking a stroll with their buggys and nanny in New York city.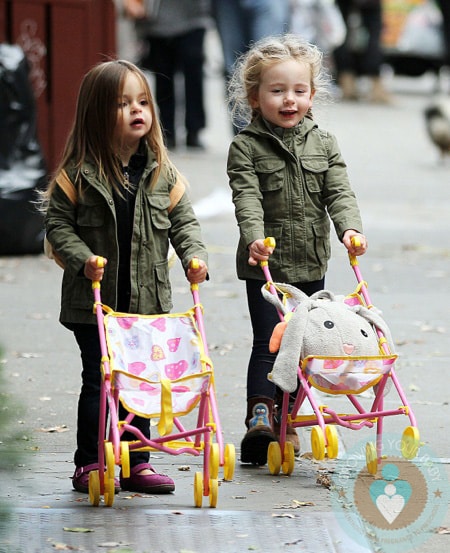 The busy three-year-olds enjoyed a casual day out in matching green jackets and jeans. But taking fashion inspiration from their famous mom,  Marion is wearing bright pink ballet flats while Tabitha wears simple, but sweet, Ugg boots.
Their mom, actress, Sarah Jessica Parker has said in an interview with Parade magazine that,
"Loretta [Marion] is deeply inquisitive: 'Do you see that, do you hear that, Mama?' She constantly checks that we are connecting with her."

And that Tabitha is 'the family princess.'
Sarah Jessica, can most recently be spotted singing and dancing on 'Glee' as a fashion guru to character Kurt Hummel.
Even though she is sure to be a fan favorite, the busy mom has ruled out any future appearances telling E! News:
"No, no, no. It's a little arc which has been really fun and a delight to be a part of. I loved working with [executive producers] Ryan Murphy and Dante DiLoreto and the cast has been very sweet, but it's just a tiny little dessert for me."
For now, she is spending a lot of time being a mom and her kids are really, really cute!
---
{PACIFIC COAST NEWS}
---
[ad]