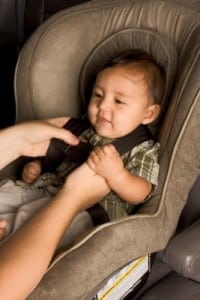 Studies on the flame retardant TDCPP (chlorinated Tris) began back in the 1960's and 1970's. Those studies linked Tris to genetic mutations and the federal Consumer Product Safety Commission (CPSC) stated that it "may pose a serious health risk to consumers." By 1977, the chemical was banned from children's pajamas. But even with that ban, the retardant is still used in furniture and products aimed at children and infants.
Last year in the state of California, the frequently used flame retardant was declared a known cancer-causing chemical. Upon that declaration, TDCPP was added to a list created by the Safe Drinking Water and Toxic Enforcement Act of 1986. Otherwise known as Prop 65, the list requires businesses to give a clear and reasonable warning to consumers when selling products containing known chemical hazards like TDCPP.
The disclosure requirement for TDCPP went into effect in October of 2012, but Target, WalMart, Babies-R-Us, Munchkin and a half a dozen other retailers and producers have failed to meet that requirement. What's more, independent testing commissioned by the Center for Environmental Health found 15 baby and children's products with chlorinated Tris levels well above the state safety standard level.
A May 2011 study found that even small percentages of Tris in baby products could result in more (sometimes double) the exposure than that of furniture containing the commonly used flame retardant, and furniture containing TDCPP has been estimated by the CPSC to increase cancer risk by 20 additional cancers per million. This is extremely concerning to health advocates who say that the risk from exposure to the chemicals is higher than the risk of fire, especially when the products containing the chemicals are designed for children.
"Infants and young children, who are at critical stages of their development should not be sleeping on products doused with these ticking chemical time bombs," Michael Green, Executive Director of the Center for Environmental Health told Forbes.
But the American Chemistry Council says that flame retardants are important for safety and they refute the idea that TDCPP poses any health risks to consumers.
"Furniture manufacturers use flame retardants to meet established fire safety standards, which saves lives. There is no data in this study that indicate that the levels of flame retardants found would cause any human health problems," the ACC said in their official statement on the May 2011 study. "Statistics show that home fires from open flame ignition sources are still a significant problem. Flame retardants can be an effective way to meet fire safety standards, and are designed to prevent fires from starting and if a fire does occur, slow its spread and provide valuable escape time. Indeed, one recent analysis, using data from a National Institute of Justice arson study, showed flame retardants in upholstered furniture can provide valuable escape time. It's important that flame retardants currently in use, like all chemicals are subject to review by the U.S. Environmental Protection Agency and national regulators around the globe."
But despite their defense, the AAC cannot get around Prop 65. They are required, by law, to disclose the use of the chemicals and their potential risks. The CEH is hoping that the suit may pressure companies into removing the chemicals altogether, especially considering the fact that it might be difficult to sell baby products with a label stating that the chemical may cause cancer. The CEH is also hoping that a settlement can be made outside of the courtroom on the current violations.
"In many of our prior cases (eg: lead in jewelry, lead in purses and other accessories) we have reached legal settlements under Prop 65 with several dozen retailers (including Target) as well as suppliers and distributors," CEH spokesman Charles Margulis told Forbes. "We aim to do the same in these cases."
Related Articles:
---
[ad]