A growing number of teachers are replacing chairs with exercise stability balls as an innovative way to improve student posture and attention.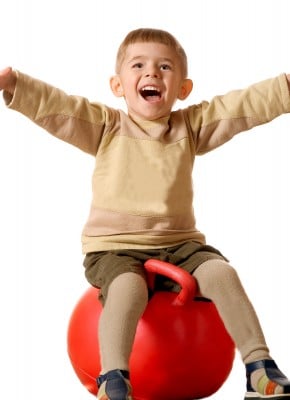 "They're awesome," gushed 10-year-old James Howell, a fourth grader at Bauder Elementary School whose class switched to purple stability balls in January. "They help you focus, they help you keep your structure. And sometimes you get to bounce on them, get the wiggles out."

"The whole theory with the brain is that when your body's engaged, your brain's engaged," Teacher Tiffany Miller said. "I call it actively sitting. They're maybe moving their legs a little, wiggling some. But their upper body, they're focused on writing, on the teacher. It really works."
Research is starting to back up that theory. John Kilbourne, a professor in the Department of Movement Science at Grand Valley State University in Allendale, Mich., switched to stability balls in his college courses last semester and surveyed 52 students on the change.
Nearly all said they preferred sitting on the balls. Students mentioned improvement in their ability to pay attention, concentrate, take notes, engage in classroom discussions and take exams.
"They said the balls improved their focus and their attention, that just everything was better," said Kilbourne, whose research is published in February's Chronicle of Kinesiology and Physical Education in Higher Education. "I think it could revolutionize the way we design classrooms."
The biggest problem, teachers say, is persuading administrators or parents to go for the change. At one school students who want to use the balls have to bring their own, at a cost of about $30. One teacher introduced the balls last fall — but she has only three for children to share if they don't have their own. She rotates the three classroom balls during the day for students without one.
Some school boards are slowly catching on. Dottie Powell, a fifth grade teacher, received a county grant this year to put stability balls in her class at Orchard View Intermediate School in Martinsburg, W.Va.
Stress balls have replaced chairs in some offices. I guess it was just a matter of time before the trend made its way to the classroom.
The only part that puzzles me is why parents have to pay for them…
---