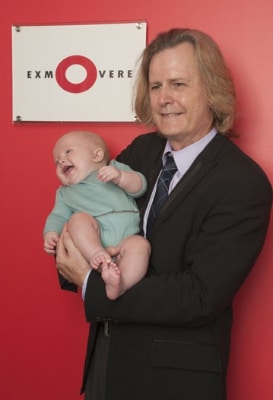 Announced today, tech company Exmovere Holdings is set to launch Exmobaby – the first baby garment to remotely monitor vital signs and behavior of your child wirelessly and transmit that data to a computer or cell phone.
Like something out of the Jetson's, each Exmobaby onesie will come with a baby-safe, rechargeable Zigbee wireless transceiver that snaps into a pouch. The data is transmitted to a nearby PC or cell phone in order to keep parents and other caregivers informed of a baby's status. The continuous monitoring, in real time, will give parents peace of mind when they can't be close to their child.
Parents or caretakers wanting to check in on a baby via cell phone or computer will see icons that represent the baby's heart rate, as well as "emotional state" and "behavior," categories the company admits are less exact.
This invention will, no doubt, be a hit with parents of premature babies or special needs children.   The question will be how reliable the stats are.
The first 1,000 onesies are scheduled to ship to select buyers from the Exmobaby waiting list in early 2011. Each kit will include an Exmobaby garment set (blue or pink), a Zigbee transceiver, PC and cell phone monitoring software, and six months of online service. Pricing has not been released.
Related Articles:
---
[ad]