A 22-month-old girl is lucky to be alive after she was injured and abandoned in a recycling bin by a 17-year-old male, police in Manitoba report.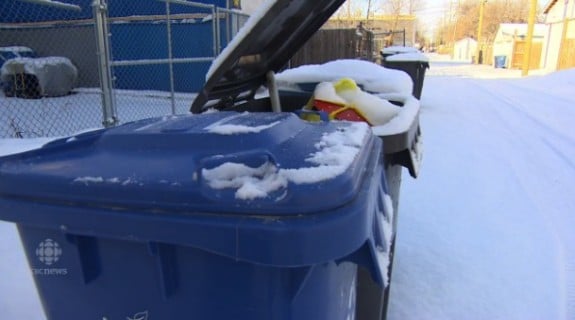 When officers in Winnipeg responded to a call on Thursday morning they found a partially dressed baby in an outdoor recycling bin with life-threatening injuries.
A police spokesman told CBCNews.ca the incident started when a fight broke out at a house party.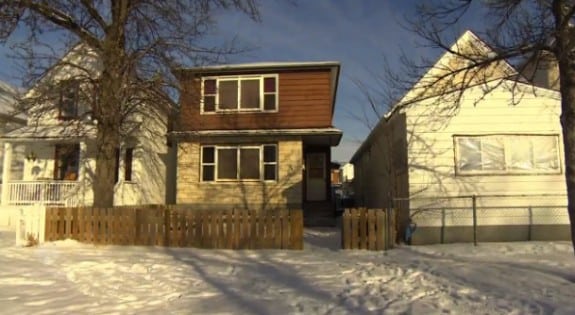 "The accused grabbed the infant and ran off," said Const. Eric Hofley.
The suspect reportedly tripped and fell on the child causing her to become injured.   He then "discarded her in the dumpster" before returning to the party.
"It was at the time approximately -30 C with the wind chill here in Winnipeg, and the child only had on a diaper and pants," Constable Hofley added.
When Robert Keno found the little girl.
"As soon as I looked down that baby looked up at me and she stopped crying. She held out her arms. There was a lot of things going through my head. And so I picked up this baby and she was just cold. I couldn't believe she was only in a diaper [and pants].
"I picked up this baby and I yelled back out there to call the cops. I just found a baby in a garbage can."
Police estimate the baby was only in the garbage bin for 15 -20 minutes, but when you factor in the weather and her condition, the situation could have turned dire very quickly.
The child's mother was was busy dealing with a fight when her daughter went missing. She told officers that the teen who ran off with the toddler was actually her brother, and the baby's uncle.  Alcohol, she says, was a big factor in his erratic behavior.
Autumn Wozny, Robert Keno's sister-in-law, was shocked to see the condition the child was in when she was pulled from the bin.
"You might have been under the influence, but that gives you no right to do that to an innocent child.  She was cold, she was so beaten up that her little left eye couldn't open.  She hardly had a pulse, she was beaten up so bad."
The little girl was originally transported to hospital with life-threatening injuries, but police report she is now in stable condition.
The 17-year-old, who cannot be named under the law, was arrested and charged with assault, possession or consumption of liquor by a minor, causing bodily harm by criminal negligence and abandoning a child.
The little girl is currently in the care of Child & Family Services.
---