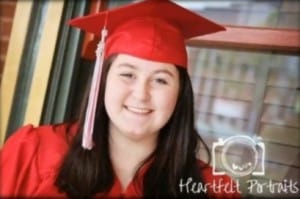 We hear the stories of bad teen moms every day. The ones that abandon their children or leave them at home alone. But where are the stories that encourage and uplift other expectant and teen mothers? If Caitlin Tiller is any indication, they're hidden and tucked away because adults fear these stories will glorify and promote teen pregnancy.
Caitlin graduated from high school early, back in December. And she's now attending Randolph County Community College, where she is pursuing a career as a medical assistant. When it came time for her senior yearbook photo, she could only think of one prop to bring along when instructed to pose with something they were proud of.
"There were no stipulations," Caitlin's mother, Karen Morgan, told ABCNews.com. "They said, 'Use whatever you want.'"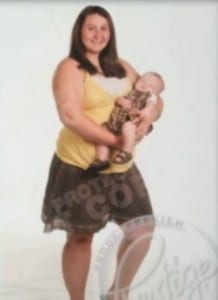 Caitlin's son, Leelin, had been a year old when the photos were taken last summer. She and Leelin had dressed beautifully for the photo, and the teen mom proudly posed while holding her sleeping son. No one said a word.
"Everyone saw me with Leelin," Caitlin told ABCNews.com. "No one said anything about me having my picture taken with him."
But then, just days before the yearbook was to be printed, Caitlin learned her photo had been considered "unacceptable."
"The lady who runs the yearbook texted me and said, 'We can't use your picture in the yearbook because it promotes teen pregnancy,'" Caitlin said.
Caitlin was then told that she could submit a new photo within two days. The alternative? Her photo would be omitted from the yearbook. Caitlin chose the latter.
"If he wasn't going to be in it with me, I didn't want to be in it at all," Caitlin said.
Caitlin said that she and her mother tried to speak to school officials, but things didn't go well. And she hadn't been the only one to have her photo excluded; a friend of hers had also posed with her baby, and had been excluded from the yearbook.
"I tried to fight it, but no one was budging," Caitlin said.
Karen even reported being hung up on by a school board member when trying to fight her exclusion from the yearbook.
Donald E. Andrews, superintendent of Randolph County Schools, gave an official statement to ABCNews.com on the matter.
"The practice at Wheatmore High School regarding yearbook pictures for seniors has been to include only graduating students in the senior section, and to permit family members and friends to be featured with our seniors in the ad section of the yearbook."
Andrews said he offered Caitlin this option, but that she'd refused. He stated that the school regrets not making the policy clearer to her from the start.
But Caitlin says it feels like "discrimination," especially since a pregnant classmate was allowed to pose with her arms wrapped around her belly. And her photo had been published.
Caitlin's mother agrees. And she believes that the school is making a big mistake by not publishing Caitlin and Leelin's photo.
"She finished high school early, started college this year, and is working 30-36 hours a week," Karen said. "It's ridiculous. She has proven so much and been such an inspiration to teen moms."
Caitlin says it's too late for her photo to appear in the yearbook, but she hopes that her story givens encouragement to other teen moms that are working hard at caring for their babies and their futures.
"Having a baby is not easy," Caitlin said. "Keep on fulfilling your dreams. Don't give up because that little baby needs you."
Amazing advice from an amazing teen mom. Having been a teen mom, I can understand Caitlin's frustration. I'm proud of her for working so hard to care for herself and her baby. And, quite honestly, I don't see how her story or her photo would promote teen pregnancy.
Very few teens actually set out to get pregnant. In fact, most teen pregnancies are unplanned. So promoting teen pregnancy isn't really an issue. But encouraging those that are already expecting or parenting during a time in life that is already difficult and confusing…well, that's something I think we should see a lot more of. Maybe then there'd be fewer tragedies among teenage mothers.
Related Articles:
---
[ad]