After having a day off to recuperate from their long flight, The Duke and Duchess of Cambridge were up bright and early to attend to attend a baby playgroup with their son Prince George at the Government House in Wellington.
Kate, William and eight-month-old George we joined by 10 other couples and their babies for an informal meet and greet where the kids were able to roam around and play with one another.
George was cute in a black "sailboat-smocked" jumper from Rachel Riley, a white onesie and matching socks and shoes.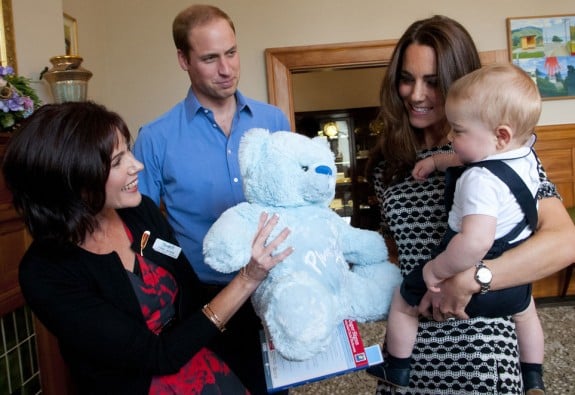 The children chosen to attend the event were all born within a few weeks of Prince George's July 22, 2013 birthday.  Among the lucky families, who were all first time parents, were a gay couple and their young daughter, a single mother and her son, and a man whose daughter will be the fourth generation of his family to meet a royal visitor.
"The parents are a spread of all the communities in New Zealand, including Maoris, Samoans, people of Chinese descent, and gay couples," Plunket president Tristine Clark explained. "This is a very multicultural country, and we wanted the Duke and Duchess to meet people from all backgrounds."
Parents Jared Mullen and Ryan Tunstall, who attended with their adopted baby daughter Isabella, spoke about meeting the Duke and Duchess and watching Prince George interact with other babies: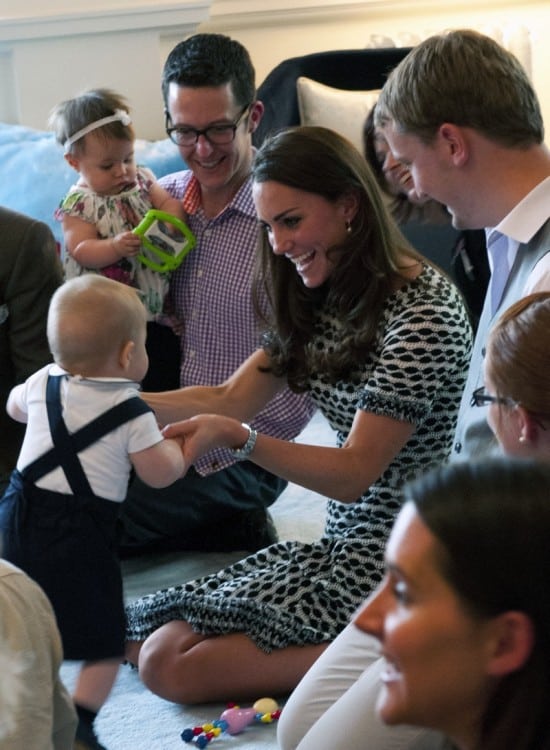 'The Duke and Duchess were lovely, they were both very relaxed and we chatted about our experiences as first-time parents.

'He is a lovely little boy, very intrepid. The whole thing has been a huge privilege.

'It was lovely to meet the Duke and Duchess and share our beautiful children with them. They are both very lovely and loving parents.'
The Duke of Cambridge spoke to Sheila and Soani Lemalie who had brought their baby son Tagiilima to the playgroup. Mrs Lemalie said:
'We talked to the Duke and Duchess about parenting – and to the Duchess about her role as both a mother and a royal. She said she was lucky to have help with George from her family and her friends.

'She is very down-to-earth and charming – they both are.

'Prince William said he supported his wife by giving George his bottle at night and putting him to bed.'
The family will visit New Zealand and Australia for three weeks where they will stay in Wellington for nine days before moving on to Sydney, Canberra and Brisbane.
They were accompanied by Prince George's Nanny Maria Teresa Turrion Borrallo.  She was spotted standing off to the side holding the baby's blankie.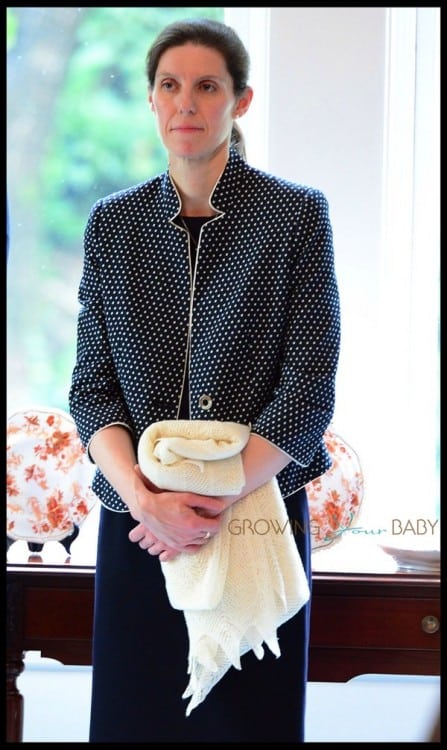 {WENN, CLARENCE HOUSE}
---
[ad]